Introduction from the Vice-Chancellor
2019–2020 marks my second full year as President and Vice-Chancellor of the University of Sheffield. I know that I am not alone when I say that this year has been one of the most extraordinary – and challenging – on record for our University.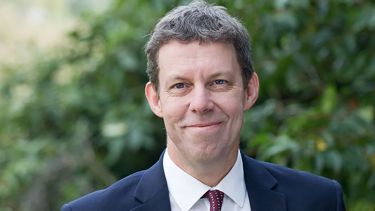 When news of Covid-19 first reached the UK in January, our University community responded immediately. We first looked at how we could support our international students and partners who were experiencing the earliest effects of the virus. Then, as the virus spread across the world and reached the UK, we turned our attention to what we could do to keep our own students, staff and local communities as safe as possible.
Very quickly we moved our teaching, learning and research online and our professional services staff adjusted to working remotely from home. The University never closed. Instead, we found new, innovative ways of delivering all our important work digitally. Staff and students have shown tremendous dedication and flexibility this year – and I am incredibly proud of what we have achieved together.
I am especially proud of the way that the University has worked to respond to the national and global challenges of the Covid-19 pandemic. Since March, our academics have researched and advised on almost every aspect of the pandemic and continue to do so.
Our medical researchers are playing a key role in the UK Coronavirus Immunology Consortium that works to understand immune responses to the virus. They are also supporting the Oxford vaccine trial, researching the long-term health impacts of Covid-19 and advising on public health strategies.
Across our faculties of social sciences, arts and humanities, science and engineering, our academics have also contributed to evidence and debate around Covid-19 – advising on economic and green recovery, food supply chains, the arts sector and the impact on childhood development, to name just a few examples.
The University of Sheffield Advanced Manufacturing Research Centre (AMRC) was also at the forefront of the pandemic response this year. As part of the High Value Manufacturing Catapult, the AMRC played a key role in the Ventilator Challenge UK consortium which saw industrial, technology and engineering businesses from across the aerospace, automotive and medical sectors come together to produce medical ventilators for the UK.
I am especially proud of the way that the University has worked to respond to the national and global challenges of the Covid-19 pandemic.
As part of the Ventilator Challenge, the AMRC Cymru facility in Broughton, North Wales, was completely transformed to become the main ventilator manufacturing facility. Production lines that would typically take 18 months to build were set up in just four weeks; 10 years' production of life-saving equipment was delivered in 10 short weeks.
In recent years, some have questioned whether universities are the right institutions to deliver the type of innovative, flexible and translational research and development that the UK needs to be able to recover economically, create more jobs, address the climate crisis and support health and wellbeing. This year, I believe that universities have proved just how well placed we are to transform what we do and to work in the national and international interest at the most pressing and challenging of times.
The University of Sheffield's flagship research institutes have made a significant mark since their launch in April 2019. A collaborative project between the Grantham Centre for Sustainable Futures and the Institute for Sustainable Food used discarded mattresses and hydroponics to create desert gardens that can grow food for Syrian refugees living in the Za'atari refugee camp in Jordan.
The Healthy Lifespan Institute has contributed to important debates around the intersectional factors that affect healthy ageing. The development of the new Translational Energy Research Centre is going well and is due to open in 2021. And, importantly, we are due to celebrate ten years of groundbreaking translational research in neuroscience.
Despite the ongoing challenges of the pandemic, the students who choose to come to study with us at Sheffield never fail to impress with their determination, thirst for knowledge and eagerness to contribute. This summer was particularly challenging for those who received A-level grades without the usual formal assessments. There was a lot of disappointment and confusion before the grading was changed.
Sheffield responded by being as flexible as possible and offering places wherever we were able to. In particular, we have prioritised students from less advantaged backgrounds and under-represented groups as part of our commitment to becoming as inclusive as possible in our approach to education. As we look to the next year, our focus will be to launch and deliver our new University vision.
This strategy has a central theme of One University – a community spirit that drives us forward to deliver our world-class research, innovation and education. I look forward to reporting on our strategy in next year's annual report.
Professor Koen Lamberts
President and Vice-Chancellor
Flagship institutes
Our four flagship institutes bring together our key strengths to tackle global issues, turning interdisciplinary and translational research into real-world solutions.