Our response to the pandemic
Thanks to the hard work of our talented academic and professional services staff, our response to the pandemic has been rapid and wide-ranging. While the situation continues to create new challenges, we're working closely with our partners, at home and abroad, to mitigate and manage its effects.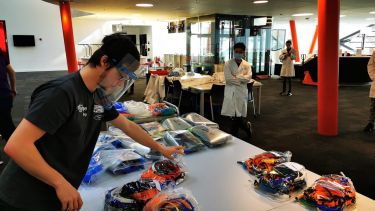 Despite the restrictions, our world-class researchers have hit the ground running with research projects to help tackle the pandemic. Meanwhile, in learning and teaching, we've pivoted to provide the digital resources that will continue to be important for our staff and students during this period and beyond.
Coronavirus: our research and innovation
Helping society to adjust
Researchers in the Faculty of Social Sciences have won funding from UK Research and Innovation for a wide variety of projects addressing issues caused by the pandemic. Covering everything from food security to economic recovery and the future of our cultural industries, they all have the potential to influence policy.
How to understand, scale and maximise the effectiveness of volunteer responses to COVID-19.
Jon Burchell (Management School).
The geography of post COVID-19 shutdown recovery risk in UK economic activity. Implications for recovery inequality and targeted stimulus.
Jesse Matheson (Department of Economics).
Meeting food vulnerability needs during COVID-19: applying a systems approach to evidence based policy
and practice.
Hannah Lambie-Mumford (Department of Politics and International Relations).
Responding to and modelling the impact of COVID-19 on Sheffield's cultural ecology – a case study of impact and recovery.
Vanessa Toulmin (Faculty of Arts and Humanities); Malcolm Tait (Department of Urban Studies and Planning).
A longitudinal mixed-methods population study of the UK during the COVID-19 pandemic: Psychological and social adjustment to global threat.
Richard Bentall (Faculty of Science); Todd Hartman (Sheffield Methods Institute).
The local as a site of food security resilience in the times of pandemic: opportunities, challenges and ways forward.
Anna Krzywoszynka (Department of Geography).
---
The rapid transition to working from home has been a challenge for many people in our staff community. The way people have adapted has been nothing short of remarkable. 
Supporting staff wellbeing has been our top priority. Beginning with an overall equality and wellbeing risk assessment, Human Resources developed a raft of guidance and practical tools. These include guidance for supporting staff with care responsibilities and other issues, training for our Wellbeing Champions – incorporating a session from Mental Health England – and themed sessions for managers.
---
Right across the University, our staff and students are passionately engaged with the issues we now face as a society. Working with external partners and across disciplines, we're exploring solutions and planning for the future.
When the prime minister called on industry to help deliver 50,000 new ventilators, colleagues from our Advanced Manufacturing Centre (AMRC) swung into action, placing themselves right at the heart of the nationwide drive. Swiftly converting their North Wales facility into a production line, they manufactured 10,000 ventilators which were sent to hospitals throughout the UK.
Academics from the Department of Infection, Immunity and Cardiovascular Disease will play a key role in a new £8.4 million project looking at the long-term health impacts of coronavirus.
A research student in the Department of Computer Science has helped develop an AI that could spot coronavirus outbreaks before they occur, reducing the need for large-scale lockdowns. A whole cohort of 250 medical students graduated ahead of schedule so they could start helping people affected by the virus.
Through the Sheffield Innovation Programme, in partnership with Sheffield Hallam University, we've continued to support businesses in the region, adapting our methods to respond remotely, providing access to academics, group webinars and more. And we're helping regional companies navigate the complex challenges they face as a result of the pandemic.
We've also been working to preserve the city's cultural life. A new online hub, developed by the council and Our Favourite Places, keeps arts and culture alive during lockdown, promoting events such as virtual poetry readings, theatre and music.
---
Colleagues in Alumni and Philanthropy have been more proactive than ever, helping our global community of alumni stay connected during the pandemic. Our alumni have responded by supporting projects to help others through difficult times.
In one emergency campaign, 386 donors raised £187,278 for Sheffield students facing serious financial hardship, helping struggling students back on their feet and back to their studies.
Following the national call for PPE, Dr Pete Mylon (Faculty of Engineering) and colleagues began 3D printing face-shields for care workers, using facilities in the iForge, Sheffield's seminal maker space. Alumni gave £19,506 to the project which produced over 5,000 face shields for Sheffield surgeries, pharmacies, hospices and care homes.
Flagship institutes
Our four flagship institutes bring together our key strengths to tackle global issues, turning interdisciplinary and translational research into real-world solutions.