Information on how to think and write reflectively.
Throughout your time at university, you will be asked to think and write reflectively. Sometimes what we've learned from an activity or piece of work isn't always obvious, which is why we reflect on our experiences.
Being able to recall what happened, and turn your insights into an action plan isn't always easy and this online resource will take you step-by-step through that process. 
A definition of reflective thinking is
evaluating your first-hand experience of an event, process or activity, then;
analysing the reasons for the things that have gone well and less well, then;
learning from the experience to improve or refine your performance if a similar situation arises again
Reflective writing is evidence of reflective thinking in which your personal experience forms a case study or data set for exploration. Reflective writing is a method for transforming this powerful subjective experience into a form of academic evidence by putting it into a broader context and drawing out its implications 
---
Why reflect?
Reflecting can help you
apply experiences from one situation to another
deal with new challenges confidently
identify ways to improve your performance
demonstrates that you are an independent learner
When is reflective thinking and writing needed?
Reflective thinking and writing could be needed for the following:
Modules: Reflecting on group work, practical work and coursework (reflective writing may be assessed).
Dissertation or research: What went well or badly, and what would you do differently if you were to continue with the research? Read more about dissertation skills.
Job applications or interviews: "Tell me about a time when you managed other people and why that was or wasn't a success".
Seeking professional qualifications, eg chartered accountant or engineer.
Reflective thinking – how?
When reflective thinking you should
be objective and be critical of your own actions
discuss your experiences with others (peers, lecturers, personal tutor) to gain perspective
compare your experience with theory – does it match up? Can you learn from, or challenge the theory?
Types of reflective writing
There are various types of reflective writing, for example:
Stories or narratives: Analysis of an event with a beginning, middle and end and a set of characters
Learning journals and logs: Reflect on various events at different times
Learning diaries: Reflect on events frequently, eg daily or weekly. An entry might be on something as specific as a particular lab method or data analysis technique
Personal Development Planning (PDP): eg Doctoral Development Programme (DDP) that all PhD students must demonstrate engagement with. The DDP helps students determine their training needs (action plan) given their past experiences and aspirations
Blogs, Twitter, video diaries: Good ways of selling yourself to potential employers and collaborators as a reflective, self-sufficient learner
---
The Gibbs Reflective Learning Cycle (Gibbs G (1988) Learning by Doing: A guide to teaching and learning methods. Further Education Unit. Oxford Polytechnic: Oxford) is a useful model for structuring a reflective piece of writing.
Keep track of your experiences and how they made you feel at the time by using a diary, journal or reflective learning log.
Later on, you can use this accumulated experience to identify patterns or make generalisations about your ways of working.
This will allow you to
compare your experience with the literature
draw conclusions that identify plans for how to tackle similar situations differently in the future
draw on your experience of what has gone well to gain confidence
The stages of the Gibbs model are as follows. Try reading them with an experience in mind, for example, a recent job interview:
Describe an experience: What happened and when? This will be important later on to help keep track of your experiences and look back on them.
How did it make you feel? This is your raw data that needs to be immediate and authentic. If you think back later on it is unlikely that you will be able to remember your emotional response.
Evaluate the experience: What went well? What went less well? Why do you think that may have been the case?
Analyse the experience: Can you put your experience in a wider context? Have you had similar experiences before and how did they compare? Is there literature that can help you to understand your experience?
What conclusions can you draw? What were the alternatives? What have you learned from the experience?
What will you do differently next time? Looking ahead, what can you take away from this experience that you can learn from and improve on in the future?
Check out our video on the Gibbs Reflective Cycle to get some ideas of how to use it in your work.
---
Use phrase starters, such as
I learnt or I discovered…
I was surprised or I was excited by…
I was moved by or I felt…
I wonder about…
I need to know more about…
I was reminded that…
I'm challenged by… or challenged to…
I need to remember… or remember to…
Ask yourself the following questions:
What? When? Who? Why? Where?
How? What if? So what? What next?
Remember the following:
Insights – What I've learnt
Applications – How I'll use what I've learnt
Questions – What I need to learn or explore further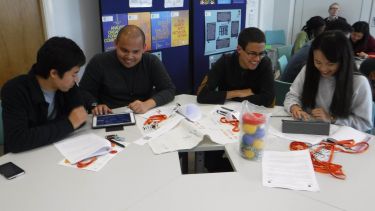 Book a Study Skills Workshop or 1:1 appointment
Would you like to explore a study skills topic in greater depth? Book on for a face-to-face or online workshop or 1:1 Study Skills appointment (current students only).
A world top-100 university
We're a world top-100 university renowned for the excellence, impact and distinctiveness of our research-led learning and teaching.