Guidance on making a successful transition to university-level study and getting the most of your time in Sheffield.
Coming to university can be an intense experience. There is a lot to get used to, from finding your way around a campus that spans a city to the challenges of the new academic environment, including reading, coursework, assignments and deadlines. 
It is worth reminding yourself that you are not facing all of this alone. Your peers will be experiencing many of the same things and staff in your department and other services at the University are here to get you accustomed to this new stage in your life so that you can get the most out of your studies.
You'll soon find that university learning will differ from what you've been familiar with so far. For starters, modules offer specific, highly specialised insights into the broader area of your course.
They're taught intensively, and are led by academic staff who are the cutting edge of research within their (and your) discipline. Overwhelming might be an understatement.
The one tool you'll need to find your way through the sometimes rocky academic terrain of university-level study is self-motivation.
While staff are here to guide you, your course is designed to be a formative experience involving autonomy and self-awareness, which are among the Sheffield Graduate Attributes that you will develop throughout your academic experience.
This new learning environment might feel challenging. But remember that there is plenty of help, advice and support available if you need it, not least from your fellow students, who are often a great source of information for many aspects of University life.
301 is just one of the places around the University where you can find support for your learning. 
University-level learning
At the University of Sheffield the biggest differences from your experience of studying at school or college are that
you will be learning with academic staff who are at the cutting edge of research in their (and your) subject
you will be expected to take control of your own learning from the very start of your studies.
In practice this means
the research knowledge and expertise of your tutors will inform the content of your modules
your tutors will want you to develop your own independent learning skills quickly, as this will enable you to get the most out of your studies
you might have more self directed study time than you are used to
For more information about making a successful transition to higher educational study, explore the sections below.
---
For many, being at university can be a period of great change and personal development.
It may entail living away from home for the first time; experiencing a greater diversity of friends and social contacts than before; finding that your idea of who you are becomes fluid and unstable.
Maybe even the subject that you're studying will lead you to think differently about the world. Almost certainly, exams and other assessment that you take will lead to feelings of pressure and strain, not least because they are, self-evidently, important.
While these new challenges can be enormously exciting, they may also cause personal stress or anxiety.
To get the most from your university experience, it's important to come to terms with this potential for stress, recognise it as part of personal growth, and learn to respect and work within your own boundaries. All of this means managing the stress you experience.
One Sheffield undergraduate described studying at University as "like a roller-coaster ride" with ups and downs, highs and lows – quick bursts of activity filled with fear and excitement.
Not everyone will feel like this, but there will be times when you find it difficult to see how you will get to the end of your degree. At these times you need to reflect on where you have come from and where you may be heading.
We all struggle to keep going all the time and you will be no different. However, there are ways of working to sustain your efforts when you need to most.
For many, this will be around assessment periods – when you are revising for exams or trying to grind out the next three thousand words of your dissertation; for others, it might be more about getting started again at the beginning of a new semester.
Whatever the particular challenges you are grappling with, remember that there are plenty of ways to find the support you need.
Self motivation: a student's perspective
The flipbook was drawn and flicked by me. It illustrates how I've been able to pursue new and old activities by being self-motivated. I feel this skill has been integral to the progress I've been able to make in all aspects of my university life. For most, university is the start of real independence from parents, domestically, academically and socially. Self-motivation has been the key to successfully juggling all the new responsibilities university gave me.

Nancy Brown

Year 3 Psychology, 2013
---
Walk around. Sheffield is vibrant to the point of immediate and wondrous joy should you look in any corner. It's got something for everyone.
The incredibly diverse scene makes for a welcoming community as well as amazing food. Coffee, pizza, vodka, pad thai, beer, souvlaki, burgers, sushi; the list is virtually endless. London Road, West Street, Division Street are all bound to delight your taste buds.
The parks around campus are also a real highlight, especially when the sun is out. Crookes Valley Park, Weston Park, and Ponderosa, all a leg's stretch away from the Student's Union, offer a bucolic respite from the bustle surrounding them.
Kelham Island is the perfect place for a hip, delicious, getaway. There are vegan restaurants, traditional bakeries and the famous Peddler Street Market where food abounds, among many others.
Sheffield is also a hop, skip and a jump away from the Peak District National Park, famous across the UK for its rolling hills and beautiful scenery. If the outdoors are your thing, the hikes the Peaks offers are sure to delight you.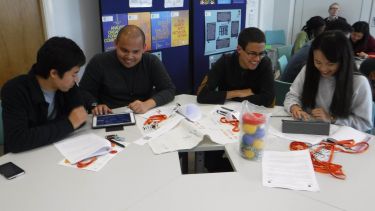 Book a Study Skills Workshop or 1:1 appointment
Would you like to explore a study skills topic in greater depth? Book on for a face-to-face or online workshop or 1:1 Study Skills appointment (current students only).
Explore the University
Discover what sets Sheffield apart at our next on-campus open day.