Choosing University accommodation means choosing confidence that whatever happens, we'll adapt.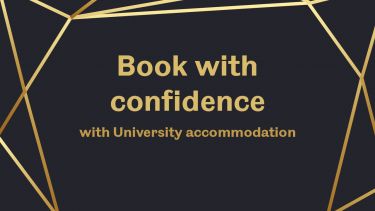 Now more than ever it is crucial to offer flexibility in services wherever possible, that's why we're taking a pragmatic approach to 2021/22 applications.
Applications are now open for you to apply for Returner accommodation for 2021/22, and here's why we think coming back to live with us makes perfect sense - we will offer more leniency where necessary should circumstances change, not to mention you'll get a sense of community that you won't find anywhere else. 
With everything else that's going on in the world right now, it makes sense to book next year in official University of Sheffield accommodation.
---
Our COVID-19 response
During the pandemic we provided a range of additional services to students who were self-isolating, including setting up an online order system to get food packs from the Village Store, working with a local launderette to provide pick up and drop off laundry services, and provided flats with laundry detergent for small items.
Please visit our dedicated Coronavirus webpages to find out more about how we've responded and supported our students.
---
But there's more...
With University accommodation you get more than just a room, you get access to all the amazing services Residence Life provide from wellbeing support to an enormous range of free events and activities with something to suit everyone! We also have 24/7 Customer Services in The Edge, and roaming Security Services to keep you safe. But that's not all, choosing to live with us means you don't need to splash out on an expensive gym membership with access to the Residences Fitness Suite located in The Ridge included in your rent.