Summer Vacation Accommodation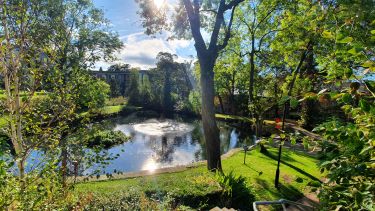 We have self-catered en-suite and shared bathroom accommodation available during the summer vacation for registered students at the University of Sheffield in a limited selection of our buildings.
Bookings are now live for Summer Vacation Accommodation 2023
Accommodation is available from 9 July – 10 September for those students already living in University accommodation.  
Subject to availability, you can book a room for the duration of this period.  
En-suite rooms are available in Cratcliffe (Ranmoor/Endcliffe)
Shared bathroom rooms are available in Crescent Houses (Ranmoor/Endcliffe)
Unfortunately, we don't offer accommodation at a daily rate. (Minimum stay 4 weeks) If you are looking for short-stay accommodation, Jonas Hotel is our flexi-stay accommodation option.  You can find out more or book online on the Jonas Hotel website.
Bookings must be received no later than 29 June 2023 to allow processing and full payment to be made.
You may not be able to remain in your current room for the Summer period, even if it is a property we are using for our Summer Vacation Accommodation.
Due to the limited number of summer vacation rooms available, Postgraduate and Undergraduate students may be housed together.
Booking process and information
To book accommodation over the summer, log into MUSE, view all services, select University Accommodation and follow the path for Summer Accommodation. You can make a booking for a room up to 29 June 2023, however, rooms are allocated on a first-come, first-served basis so we recommend that you apply as soon as possible.  If you have any questions please email the Accommodation Office with the subject title 'Summer Accommodation'. 
You will be required to pay online by credit or debit card in full.  After you have submitted your booking, you will be contacted by the Accommodation Office with confirmation of the actual room booked. 
Please note, it is important that you read and print off a copy of the 'Conditions of Reservation' prior to making your payment.
Any student who has booked accommodation with us for 2023-24 academic year – we will contact you later in the summer with information on how we can offer assistance for the period between the end of the Summer Vacation and the start of your new contract.