Online orders from the Village Store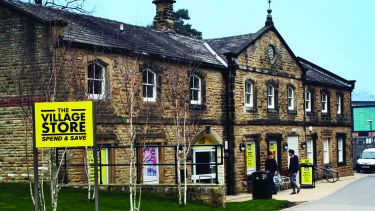 Introducing the Village Store Basic Food pack
You told us what you wanted, so here it is, the Basic Food pack, containing a range of staple ingredients for meals throughout the day. Our food packs are available to order from the Village Store, which is great, but even better is that they've been price matched to Tesco!

They're perfect for if you are self-isolating as we'll deliver them to your door, at no extra cost. You can order from The Village Store here. Get your essentials or choose from a selection of boxes with recipes and all the ingredients to rustle up some delicious dishes.

Don't fancy the pre-packed choices? Just give the store a call on 0114 222 0276 and let them know what you want, they'll get your order ready for you and send you a link to process payment.

If you're not sure about any of this, feel free to get in touch at villagestore@sheffield.ac.uk
If you are self-isolating you can order packs of food from the Village Store that will come with recipes for you to get stuck into whilst self-isolating. 
These can be ordered by completing the following steps: 
You will be asked to input information regarding your date preference, dietary needs, address and contact details
You can select 1 or more of the packs available as per the options described below
Payment will be taken via card 
You will receive an email confirmation regarding your order
The Village Store will deliver your order to your residence
 A normal order will take up to 24 hours to process and deliver but if you would like this to arrive sooner, please contact: villagestore@sheffield.ac.uk  
We are now able to deliver our recipe/essentials packs to students living in private accommodation within a 2 mile radius, this includes the following postcodes - S10, S11, S1, S2, S3. If you live outside of this area and would like to order a pack for delivery please contact us directly.
You can order a food and/or toiletries package, which includes the following:
Basic Food Pack £16.70

Pasta Sauce 500g
Stir In Pasta Sauce 190g
Dried Pasta 500g
Tinned Soup x 2 400g
Ko Lee Noodles 5pk
Bread 800g
Milk 1lt
Beans x2 400g
Porridge Oats 500g
Bananas (5)
Eggs 1/2 dozen
Orange cordial 750ml
Frozen Rice & Veg fusion (2 portions)  
Frozen Mixed Veg 340g
Frozen Cheese & Tomato Pizza 253g

Food Essentials £31.75

Butter 250g
Milk 1lt
Eggs x6
Satsumas x6
Bananas x5
Apples x4
Baking potatoes x4
Salad tomatoes x6
Bag of salad leaves 180g
Onions x3
Cheddar cheese 240g
Sliced white loaf 800g
Tofu 396g (v) or chicken fillets x2
Pasta 500g
Long grain rice 500g
Orange juice 1lt
Pasta sauce tomato 550g
Tea bags x80
Instant coffee 100g
Baked beans 2x400g
Cereal variety 8 pack
Tinned soup 400g tomato (v) or chicken
Instant noodles 5x70g curry (v) or chicken flavour
Vegetable oil 1lt
Green pesto 190g

Household/Toiletry Essentials £17.50

Shampoo 350ml
Conditioner 350ml
Handwash 250ml
Shower gel 250ml
Toilet roll x4
Kitchen roll x2
Washing up liquid 450ml
All purpose cloths x10
Antibacterial cleaning spray 500ml
Handwash laundry powder 960g
Box of tissues 3ply 72s

Treats - something to cheer you up! £8

Crisps 65g x2
Nutella chocolate spread 200g
Haribo 175g
Popcorn 76g
Oreos 154g
Chocolate 95g
Cleaning pack £6.50

Cloths

Scourer

Antibacterial spray

Washing up liquid

All purpose cleaning spray
What is included in the recipe packs? 
There's two recipe packs to choose from. Each contains all the ingredients you need to make four dishes based on the recipes below. You'll also have plenty of surplus ingredients leftover to make more meals.
Recipe pack 1 - £40
Recipe pack 1 contents:

Noodle pots 90g x4
Long grain rice 500g
Oriental cooking sauce 120g x3
Egg noodles 250g x2
Roast chicken Quorn slices 140g (v) or cooked chicken pieces 90g x2
Chilli oil 250ml
Butter 250g
Soy sauce 150ml
Frozen peas 400g
Carrots 500g
Onion x3
Shallots 300g
Green beans 170g
Iceberg lettuce x1
Garlic puree 90g
Sping onions 125g
Mushrooms 150g
Tofu 396g
Frozen Quorn mince 300g (v) or beef mince 500g
Recipe pack 2 - £36
Recipe pack 2 contents:

Pasta 500g x2
Microwave rice 250g x2
Cheese and tomato pizza (frozen)  300g
Pasta sauce 500g x3
Curry sauce 500g x1
Frozen Quorn mince 300g (v) or beef mince 500g
Butter 250g
Vegetable oil 1lt
Salt 750g
Ground pepper 25g
Tuna in oil 160g x2
Sweetcorn 198g x2
Frozen peas 400g
Butternut squash x1
Onion x3
Spinach 100g
Eggs - medium x6
Cheddar cheese 240g
Don't fancy the pre packed choices? Just give the store a call on 0114 222 0276 or email on villagestore@sheffield.ac.uk and let them know what you want, they'll get your order ready for you and send you a link to process payment.
A world top-100 university
We're a world top-100 university renowned for the excellence, impact and distinctiveness of our research-led learning and teaching.