Living in University accommodation is not just about having a place to stay. We go to every effort to ensure our students experience the best time of their lives while staying with us, and offer a variety of work opportunities to allow students to earn as they learn.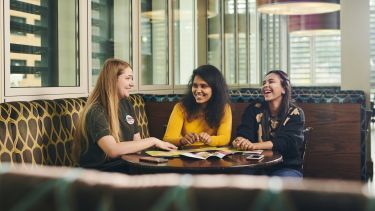 Off
Residence Life
We are one of the very first UK universities to operate a programme called Residence Life, which is highly popular in North America and Australia. Encompassing every part of the student experience, Residence Life offers everything from welfare support and advice, to sports, activities or events and learning and skills workshops.
Our Residence Life Mentors are students who have been at the University for a year or two. They make regular visits to students in their accommodation to offer support for any issues they may have. The Mentors also run evening drop-in sessions and film nights, to give students every opportunity to speak to someone if they are experiencing any problems.
The Residence Life Portal, a weekly e-newsletter and a monthly calendar of events online informs students about regular events and activities such as sports and fitness classes, special occasions, academic lectures and day trips available to visit places of interest. 
---
Student recruitment
We employ approximately 175 students on a casual basis during Intro Weekend each year alone and many of these, plus others go on to work part-time in ACS and UNICUS food and drink venues, within the 16 hours per week limit that the University advises for students in full time study.
We recruit students to act as 'Brand Ambassadors' to spread the word about our GeniUS Card offer, Residence Life and to answer questions from new students during Intro Weekend. We also employ student 'Food Angels' to travel across the University campus handing out discounts and samples of our new food and drink offers and much much more.
We have trained many of our students to be baristas and have also participated in the Skills for Work Certificate, which is designed to help students use their work experience to demonstrate the relevant skills they have developed to future employers.
A global reputation
Sheffield is a research university with a global reputation for excellence. We're a member of the Russell Group: one of the 24 leading UK universities for research and teaching.