The Amy Johnson Building has been the home of the Department of Automatic Control and Systems Engineering since the department was founded in 1968.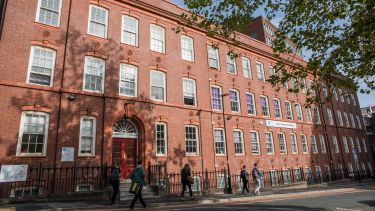 Students use the Amy Johnson Building for personal tutorials, and the majority of ACSE Academic, Technical and Support staff can be found here.
There are also a number of laboratories for students to use for single and group projects. Each laboratory houses all the basic equipment that students need, with in-house technicians at hand to help.
There are two group project workrooms, an undergraduate group project workroom, and an Open Access Laboratory, all available for ACSE students.
History of the Building
The Department of Control Engineering was founded in 1968 by Professor Harry Nicholson, in the building formerly occupied by the Department of Applied Mechanics, and many generations of control and systems students, academics and technical staff have since used the building.
In the 1990s the addition of the Badger Lane Annex made way for new labs, including the Space Instrumentation Lab. Today, the Badger Lane Annex is home to the Rolls-Royce University Technology Centre (UTC), devoted to research in control systems and embedded software for Rolls-Royce's needs.
In 1992, the building was named after Amy Johnson, pioneering pilot and former student of the University of Sheffield. The building boasts a specially commissioned model of her Gypsy Moth aircraft installed in its foyer. We would like all of our undergraduates to aspire to be like Amy: technically excellent, enterprising, and having the courage of her convictions.
The building was opened by another University of Sheffield Alumnus – and the first British Astronaut – Helen Sharman, in October of the same year.
Explore the University
Discover why Sheffield is the right choice for you at one of our open days or events.