Located on the corner of Broad Lane and Newcastle Street, the Engineering Faculty's Pam Liversidge Building offers collaborative workspace and facilities for research institutes and students.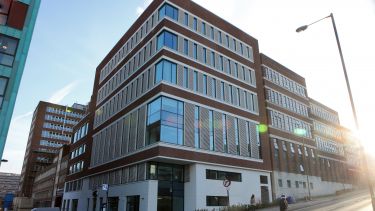 Activities in the Pam Liversidge Building focus on collaborative, interdisciplinary research groups and postgraduate learning.
The Pam Liversidge atrium gives students space to work on group projects, and computer facilities are also available to encourage collaborative working between students across the faculty.
Institutes in residence in the Pam Liversidge Building
Sheffield Robotics
Drawing from experts in Robotics, Computer Science and Psychology from both the University of Sheffield and SHU, the institute aims to make Sheffield a regional, national, and international hub for research in robotics, forging strong links between research into new robotic technologies, human-robot interaction, and the impacts of robotics on human society.
INSIGNEO (Institute for in silico Medicine)
Europe's largest research institute, dedicated entirely to the development, validation, and use of in silico medicine technologies. Insigneo's mission is to perform cutting edge research in areas of fundamental and applied biomedical modelling, imaging and informatics, so implementing the scientific ambition behind the Virtual Physiological Human (VPH), and transforming healthcare.
CISTIB (Center for Computational Imaging & Simulation Technologies in Biomedicine)
CISTIB generates new technical or clinical knowledge by means of innovative methods and systems.
Explore the University
Discover why Sheffield is the right choice for you at one of our open days or events.