Dr Bryn Jones
MEng, PhD, CEng, MIET
Department of Automatic Control and Systems Engineering
Senior Lecturer
Department Director of Learning and Teaching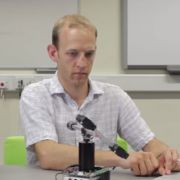 b.l.jones@sheffield.ac.uk
+44 114 222 5613
Amy Johnson Building
Full contact details
Dr Bryn Jones
Department of Automatic Control and Systems Engineering
Amy Johnson Building
Portobello Street
Sheffield
S1 3JD

Profile

I graduated from the University of Cambridge in 2004 with an MEng in Electrical and Information Sciences, having spent a year of my degree at the Massachusetts Institute of Technology.

I then worked as an electronics engineer for the British Antarctic Survey at the Halley V research station, based in Antarctica. In 2006 I returned to the UK to undertake a PhD at Imperial College London, where my research focussed upon the control of fluid flows, with applications including the drag reduction of aircraft.

Between leaving Imperial and joining the ACSE Department, I worked as a senior systems engineer for the Scottish Association for Marine Science, designing low-power instrumentation for climate change scientists and researching novel energy harvesting technologies for use in polar environments.
Research interests

LiDAR-based wind-turbine gust prediction.
Wind-turbine individual blade-pitch control.
Control of spatially distributed systems.
Low-order modelling for control of high/infinite dimensional systems.
Unmanned surface vehicle autonomy.
Energy harvesting
Novel technologies for marine and polar science
Publications

Journal articles

Conference proceedings papers
Research group

Peter Heins, Modelling and Control of Turbulent Flows
Oliver Dellar, Low order modelling of flows around complex geometries
Aldo Villanueva Marcocchio, Smart Wireless Sensing for Aero-engines
Grants

Innovate UK, USV Environment Efficiency (UoS PI), £78,566
EPSRC, Wind Turbine Gust Prediction (EP/K007386/1) (PI), March 2013 – May 2014, £98,611
Vestas Wind Systems, Wind Turbine Generator Individual Blade-Pitch Controls (Co-I), £24,000
Teaching activities

ACS317 State-Space Control Design. This course introduces state-space methods for the analysis and design of controllers for multivariable systems. Previous students of this course have commented:

"This has been the most interesting lecture course of my degree so far."
"Well taught, great module."
"Possibly the most informative, enjoyable, well-structured course in my entire time in ACSE."

ACS336 Rapid Control Prototyping. This is the course where theory is put into practice and sees each student configuring data-acquisition devices to design real-time controllers on their own model helicopters. Previous students of this course have commented:

"The most interesting lab during my studies. Something completely new and different."
"This module was the best I've done at university so far! To be able to see the practical application of what we have learnt was the best bit. I now feel more confident using those skills in industry after I leave university. I wish more modules in my degree were like this one."

ACS6110 / ACS6336 Rapid control Prototyping (the MSc versions of ACS336).
Professional activities

Chartered Engineer and member of the Institution of Engineering and Technology.

Senate Award for Excellence in Learning and Teaching 2013/14.

Organiser: Wind Energy Research Symposium. University of Sheffield. August 6th-7th, 2012.

Co-chair: Enabling science from emerging technologies and sustained observation. (2010). 14th Biennial Challenger Conference for Marine Science. National Oceanography Centre, Southampton, UK.

Ireland Scholar Award. (2002-2003).

Nortel Networks Scholarship (2000-2003)