Dr Mahdieh Sadabadi
Department of Automatic Control and Systems Engineering
Lecturer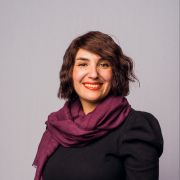 m.sadabadi@sheffield.ac.uk
Amy Johnson Building
Full contact details
Dr Mahdieh Sadabadi
Department of Automatic Control and Systems Engineering
Amy Johnson Building
Portobello Street
Sheffield
S1 3JD

Profile

Mahdieh Sadabadi is currently a Lecturer in the Department of Automatic Control and Systems Engineering (ACSE), University of Sheffield. Prior to that, she was a Research Associate in the Computational and Biological Learning (CBL) Group at the Department of Engineering, the University of Cambridge and affiliated with Trinity College in Cambridge. She was a Postdoctoral Fellow in the Division of Automatic Control at the Department of Electrical Engineering, Linkoping University in Sweden.

She received her Ph.D. in Control Systems from Automatic Control Laboratory (LA), Swiss Federal Institute of Technology in Lausanne (EPFL), Switzerland in February 2016. She was a Visiting Scholar at the Electrical Engineering Department, Ecole Polytechnique de Montreal, QC, Canada, Methods and Algorithms for Control (MAC) group, LAAS-CNRS in Toulouse, France, and HHMI Janelia Research Campus in Ashburn, VA, USA.
Research interests

General areas: Control theory with applications to power systems, microgrids, and power electronic converters
Specific areas: Plug-and-play control in microgrids, advanced control approaches for power electronic converters, stability of low-inertia power systems, low-order and static output feedback control of uncertain systems, fixed-structure control of interconnected systems
Publications

There has been a problem showing this information. Please try again later.
Research group

I am currently looking for motivated PhD students. If you are interested in undertaking a PhD with me at the University of Sheffield please feel free to contact me.  Read a project description. 
Teaching activities

ACS230 Control Systems Design and Analysis.