Dr Boyang Song
Department of Automatic Control and Systems Engineering
Research Associate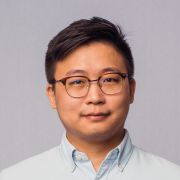 b.song@sheffield.ac.uk
+44 114 222 5693
Amy Johnson Building
Full contact details
Dr Boyang Song
Department of Automatic Control and Systems Engineering
Amy Johnson Building
Portobello Street
Sheffield
S1 3JD

Profile

Dr Boyang Song joined Department of Automatic Control and Systems Engineering (ACSE) within University of Sheffield as a research Associate after he completed his PhD in Optimisation and Simulation for Flexible Manufacturing System from Cranfield University in 2018. Before his research career, he worked in several international product development and manufacturing projects in automotive industry after graduated from his BSc in Automotive Engineering in 2010.
Research interests

Machine Learning for Predictive Maintenance
Industrial Internet of Things integrated with Operation Technology
Flexible Manufacturing Systems and Reconfigurable Manufacturing systems
Simulation and optimisation for manufacturing systems.

Research activities

Dr Song is developing his early research career and led several research projects engaged closely with the manufacturing and supply chain industry. During his master's degree, he contributed to the analysing UK manufacturing productivity and presented in the national manufacturing debate 2014. With industry partner Cosworth,  he successfully delivered Advanced Manufacturing Supply Chain Initiative (AMSCI) Project (2014-17) on 'Flexible Manufacturing Systems through Supply Chain Initiative', and Innovation UK project (2017-19) on 'real-time productivity and ergonomic assessment of flexible manufacturing'. He was the lead researcher in the RAEng Regional Engagement Award project on 'Digitisation and Connectivity for Productivity Enhancement in SMEs' from 2018. Since 2018, He started to contribute to research collaboration with Airbus in multiple projects including simulation modelling Autonomous Mobile Robots operations for factory internal logistics. His current research projects (2019-2020) including EPSRC Impact Acceleration Account (IAA) project and Research England Pitch-In funded projects in subjects of Industrial Internet of Things and machine learning for predictive maintenance and process quality control, with the industry partners Tinsley Bridge, Siemens, and academic partner Cambridge University.

Dr Song's research is characterised by strong industrial collaboration, having worked with companies such as Airbus, Siemens, Cosworth, Tinsley Bridge etc.
Publications

Journal articles

Conference proceedings papers
Professional activities

2015-18 PhD scholarship from Advanced Manufacturing Supply Chain Initiative (AMSCI)
Member of the Institution of Engineering and Technology (IET)
Member of IEEE