Origami Robot cited by IEEE Spectrum as top 10 in most-read robotics posts of the decade!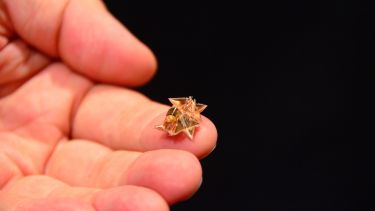 IEEE Spectrum has published thousands of articles narrating as many aspects of the field as possible, including; Autonomous cars, humanoids, legged robots, drones, robots in space and much more. Safe to say it's been an exciting decade in the field of robotics.
ACSE's Dr Shuhei Miyashita's robot is a tiny self-folding magnetically actuated robot that walks, swims and degrades. This is the first robot of its kind that is able to complete a life cycle and will eventually be completing these tasks inside the body.
The robot is made of a magnet and PVC which is sandwiched between laser-cut structural layers (polystyrene or paper) and weighs just 0.31g and measures 1.7cm. Once introduced to a heating element the PVC contracts and where the layers have been cut creates folds - hence the name 'Origami Robot'.
Undergraduate scholarships
Our department offers financial assistance in the form of scholarships and bursaries, in addition to the scholarships offered by the University of Sheffield.
Flagship institutes
The University's four flagship institutes bring together our key strengths to tackle global issues, turning interdisciplinary and translational research into real-world solutions.