Nursing and Midwifery degrees
Our Nursing and Midwifery degrees will teach you to provide the best possible care to patients. You'll learn essential human biology, build up a huge range of practical skills, and apply key professional qualities such as problem-solving, compassion and resilience.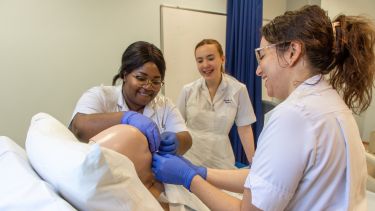 On
Our undergraduate BMedSci Nursing (Adult) course is for students new to university or caring professions.
Our postgraduate MMedSci Nursing Studies course is for students who already have an undergraduate degree and experience of working with the public in a caring or supporting role (eg, carer, support worker, teacher).
---
Nursing apprenticeships
We also offer apprenticeship routes into Nursing or Nursing Associate roles.
View the different apprenticeship routes
---
Our Midwifery course is for graduates with an undergraduate qualification in a relevant subject area.
---
A training grant of at least £5,000 per year is available for all eligible UK (Home) BMedSci, MMedSci and MSc students to help them with their studies, as well as extra funding to cover the cost of travel to clinical placements where applicable.
There is also funding available for students with at least one dependent child or for those facing hardship.
---
Our courses are approved by the Nursing and Midwifery Council (NMC). This means that, when you graduate, you can apply to join the NMC professional register and begin to practise as an adult nurse or midwife.
Sheffield Nursing and Midwifery graduates have rewarding careers with lots of opportunities for professional and personal development. They work in hospitals and clinics across the NHS, as well as other healthcare settings such as care homes.
---
A world-class university – a unique student experience
Sheffield is a research university with a global reputation for excellence. We're a member of the Russell Group: one of the 24 leading UK universities for research and teaching.