Speech, Language and Literacy: Development, Difficulties and Intervention
This multidisciplinary research group adopts both quantitative and qualitative methodologies to investigate the normal and atypical development of spoken and written language.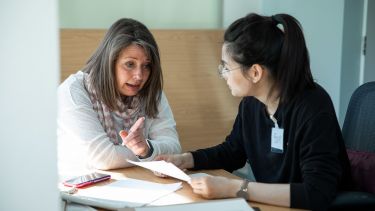 We draw on theory, research methodology and practice from a range of perspectives: linguistic, psycholinguistic medical, psychosocial and educational.
Populations which have been a particular focus for investigation are children with:
Normally developing speech, language and literacy
Delayed, specific, persisting speech difficulties (e.g. phonological delay, apraxia of speech, and stammering)
Developmental language disorder (DLD)
Literacy problems (e.g. dyslexia; hyperlexia)
Medical conditions or syndromes (e.g. cleft lip and palate, Down syndrome)
Auditory processing problems
Disadvantaged backgrounds
In addition, adopting a developmental perspective enables the exploration of the unfolding nature of speech and language difficulties across the lifespan and what impact these have on educational achievement; social relationships and employment. Thus, projects with older children/adolescents and adults with developmental speech and language difficulties are included in this group's portfolio.

Training and intervention are also a key aspect of this group's work. Projects include detailed psycholinguistic case studies of the intervention process with children with specific speech and language difficulties and also group studies of how to promote spoken and written language skills in a classroom setting by working through education staff.
---
Some of our recent publications:
Bowyer-Crane, C., Fricke, S., Schaefer, B., Lervag, A., & Hulme, C. (2017). Early literacy and comprehension skills in children learning English as an additional language and monolingual children with language weaknesses. Reading and Writing, 30, 771-790, 10.1007/s11145-016-9699-8
Henderson, L. M., & Warmington, M. (2017). A sequence learning impairment in dyslexia? It depends on the task. Research in developmental disabilities, 60, 198-210.
Hopkins, T., Clegg, J., & Stackhouse, J. (2017). Examining the association between language, expository discourse and offending behaviour: an investigation of direction, strength and independence. International Journal of Language & Communication Disorders. doi:10.1111/1460-6984.12330
Kim, J, Hemphill, L., Troyer, M., Thomson, J., Jones, S., LaRusso, M., & Donovan, S. (2017). Engaging struggling readers to improve reading skills. Reading Research Quarterly, 52, 357–382, doi: 10.1002/rrq.171
Schaefer, B., Stackhouse, J., & Wells, B. (2016). Phonological awareness development in children with and without spoken language difficulties. International Journal of Speech-Language Pathology, Early Online 1-11, 10.1080/17549507.2016.1221449
Spencer, S., Clegg, J., Lowe, H., & Stackhouse, J. (2017). Increasing adolescents' depth of understanding of cross-curriculum words: an intervention study. International Journal of Language & Communication Disorders. doi:10.1111/1460-6984.12309
---
People
Academic staff
Emeritus staff
Honorary Staff
Dr Annette Fox
Dr Debbie Sell
Research Students
Rachel Bear
Rachael Black
Marta Borówka
Sam Calladine
Mary Hartshorne
Kathryn Patrick
Katharina Salgert