The Boardroom - Meet the speakers 2022
The Boardroom masterclasses will be delivered by leading Sheffield alumni from around the world. See this years series of masterclasses below and find out who will be speaking.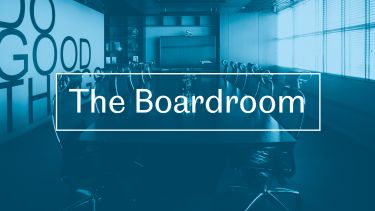 Women in Leadership
Dr Ayesha Saeed Husaini - Founder and Director of The Manzil Centre
(PhD Education 2009)
Cathy Travers - Group Managing Director at Mott MacDonald
(MEng Civil and Structural Engineering 1988)
Hear from successful female leaders about their journeys. The speakers will discuss the attributes of good leadership and how leaders can successfully champion their female colleagues. They'll look back on their careers and share the challenges they have faced along the way. Looking forward to the future, they'll discuss the opportunities available to recent graduates in a post-pandemic world.
---
Entrepreneurship
Caroline Ruedin - Director at Swisslinx AG (BSc Psychology and Business 1992)
Sanjay Parekh - Head of DAC at Storegga (BA Business Studies 1992)
Entrepreneurs Caroline Reudin and Sanjay Parekh will share their top tips for starting your own company, and discuss the key skills and attributes needed to be a successful entrepreneur. The speakers will provide an insight into their different sectors, tech and recruitment, and talk about how they innovate to keep their businesses relevant. They'll explore the term "intrapreneurship" and give advice on being entrepreneurial within an organisation.
---
Crisis Management, Building Positive Cultures and Transferable Leadership Skills
Lieutenant Colonel Nicholas Moran - Commanding Officer of the 2nd Battalion Royal (BA History 2003)
Hear from alumni Lieutenant Colonel Nick Moran. Over his seventeen year career, he has worked in isolated, high pressure and high-risk environments. He has a passion for innovation, research, development and institutional learning, most recently pioneering the application of Artificial Intelligence in specialist military fields.
---
Careers in Finance
Jane Atherton - Deputy Head North America at Temasek (LLB Law 1991)
Jane Atherton, a global leader in banking and finance, will discuss her career path and how she got to where she is today. Get an insight into the challenges Jane has faced working in this sector and what she wishes she had known when graduating from the University of Sheffield.
---
How to Land a Job at the Big 4
Mohammed Majid - Partner and Corporate Development Leader at KPMG 
(BSc Chemistry 2000)
Alumnus Mohammed Majid, who has worked for KPMG and PWC, will give insight into landing a job at one of the Big 4 and talk about his own career journey to date. He will share his top tips for standing out as recent graduates, the range of opportunities for career progression within the Big 4, and discuss the new emerging areas within the sector.
---
Breaking into the Civil Service
David Takyi - Assistant Director and Trade Policy Adviser at the Department of Health and Social Care (BSc Financial Economics with Employment Experience 2015)
Janet Collins - SEND & Health and Social Care Policy Lead at the Department for Education (PG Print Journalism FT 2003)
Two Sheffield alumni share their routes into the civil service and valuable insights into different UK Government Departments. They'll discuss about about career progression within the civil service, and what new opportunities are opening up for recent graduates in in this sector. Find out their top tips for breaking into the sector and how you can stand out from other candidates.
---
Marketing Masterclass
Usama Al-Qassab - Vice President of Marketing EMEA at Disney (BA Geography 1997)
Usama Al-Qassab will give you a unique insight into the marketing strategy at Disney. Find out about his career path, what different opportunities came along and how he ended up at Disney. Usama will discuss how you can break into a career in marketing if you don't have a background in it and how you can prepare yourself for the future by developing your skills in this rapidly changing landscape. 
---
Championing Diversity
Cheyenne Polius - Partnership Data Analyst at FINBOURNE Technology 
(MA Physics and Astrophysics 2020)
Dr Emily Rickman - European Space Agency Research Fellow at Space Telescope Science Institute (PhD Astrophysics 2016)
The final masterclass in this series will focus on intersectionality, inclusivity and diversity within the workplace and why it is so important to foster an inclusive culture within organisations. Our speakers will draw on their own expertise and experiences to discuss how you can use your leadership skills to champion others. The session will also reflect on what you should be looking for in an employer and what the post-pandemic future looks like for workplace inclusivity.