Understanding Zooarchaeology I
Now rescheduled for the 18th-20th January 2021 due to the current Covid-19 crisis. This three-day course uses interactive teaching methods to introduce you to the study of animal remains in archaeology.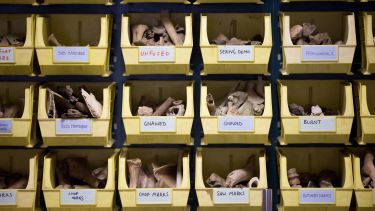 The main aim of zooarchaeology is to understand the interaction between humans and animals, through the study of animal remains from archaeological sites. The Understanding Zooarchaeology I short course is aimed at students, professionals and enthusiasts and does not require any previous knowledge.
Teaching is delivered through short lectures, discussions, case studies and practical classes to provide an insight into the theory and methods that can be used to understand animal remains in archaeology.
If you already have a basic knowledge of zooarchaeology, you may benefit from enrolling in our more advanced Understanding Zooarchaeology II course.
For further information, please contact zooarch-shortcourse@sheffield.ac.uk
---
Provisional timetable
Takes place Monday 18th to Wednesday 20th of January 2021. Days run from 9am-5.30pm.
Session

Theme

8.15-9.00am

Registration

Introduction and 'get to know' session

1

Excavation, washing, marking and storage

Tours of the reference collection

Coffee break

2

What can body parts tell us?

Taphonomy and meat utility

Lunch break

3

Identifying animals

Classification
Examples of changing species trends
Case study

Coffee break

4

Identifying elements review (practical includes putting together skeleton)

Q&A overview of the day
Session

Theme

5

Ageing animals: Teeth

Tooth eruption and wear practical

Coffee break

6

Ageing animals: Postcranial bones

Epiphyseal fusion practical

Lunch break

7

Identifying fish

Coffee break

8

Birds

Case Study

Q&A overview of the day
Session

Theme

9

Micromammals, reptiles and amphibians

Coffee break

10

Sexing and Biometry

Lunch break

11
Quantification
12

Bone modification and pathology

Coffee break

Case study

Bone quiz

Q&A overview of the day
---
Prices
Single course - standard: £200
Single course - student/unwaged: £140
Both courses together - standard: £350
Both courses together -student/unwaged: £240
---
Cancellations and refunds
Refund requests should be made by email to zooarch-shortcourse@sheffield.ac.uk, no less than 7 days before the start of the course. We will endeavour to fill the course place, and in the event that a replacement is found a full refund will be made. If a replacement cannot be found a refund of 50% of the course fee will be made for cancellations made more than 7 days before the start of the course. No refund will be made for cancellations made less than 7 days before the course start date.
At the discretion of the course organisers, and in exceptional circumstances, participants that are unable to attend can defer their enrolment until the next Zooarchaeology short course.
If you are experiencing any difficulty please contact us as early as possible.
The content of our courses is reviewed annually to make sure it is up-to-date and relevant. Individual modules are occasionally updated or withdrawn. This is in response to discoveries through our world-leading research, funding changes, professional accreditation requirements, student or employer feedback, outcomes of reviews, and variations in staff or student numbers. In the event of any change we'll consult and inform students in good time and take reasonable steps to minimise disruption.
Information last updated: 6 August 2020
---
A world-class university – a unique student experience
Sheffield is a research university with a global reputation for excellence. We're a member of the Russell Group: one of the 24 leading UK universities for research and teaching.