Lockdown Archaeology- Students conduct cast object experiment from home using chocolate instead of bronze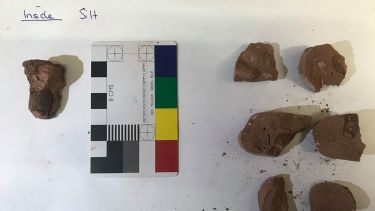 Masters students have been using chocolate as a replacement for bronze in a practical clay mould casting experiment, which has been carried out in their own homes during lockdown. 
When the UK went into lockdown in response to Covid-19, students on the masters module Experimental Archaeology (AAP6082) were just about to begin the practical element of their course. Original plans to build and fire a a reconstruction of a Roman pottery kiln from South Yorkshire were, for obvious reasons, no longer viable. As a result, module leader Yvette Marks had just two days to come up with an alternative experiment that students could feasibly conduct from home. 
"The Experimental Archaeology module teaches the principles of what experimental archaeology can do, and explores how we can test theories based on archaeological material by recreating processes," says Yvette. "I wanted to ensure the students could get hands on and carry out a practical experiment for themselves, as well as to carry out a project that would still contribute to research in this field."
"I went and walked round our Material Science Laboratory, looking at what resources we had, that could be sent home with the students and which would be safe to use at home. Clay was the obvious choice. We had just held an experimental archaeology conference in Sheffield at the start of March (EAStS), and one of the main discussion we had, was about clay moulds for bronze casting. That led to the idea for this take-home, lockdown experiment."
The experiment: investigations into recipes of clay moulds for bronze casting
For the experiment, students has to make six variables of clay moulds, adding different ingredients to the clay based on archaeological evidence from Bronze Age China. 
Bronze artefacts from the Chinese Bronze Age are famed for their intricate three dimensional shape and clarity of the cast surface. Research suggests that both additional ingredients in the clay and the drying methods of the moulds affect the quality of the cast object. Students therefore make two versions of each variable of mould and dry them in different ways (indoor/outdoor, shade/sun, sheltered/non sheltered).
After the moulds were made, they were left to dry for two weeks. Observations were recorded, including colour change, weight and cracking.
When it came time to cast into the moulds, students used chocolate as an alternative for bronze.  Chocolate is a good substitute for bronze in this context for a number of reasons: you have to melt it to pour into the mould, it sets hard, it takes on the shape of the mould, and the surface of the cast object will be affected by the clay material. 
The experiment did involve some further necessary improvisation. Without access to a stone hand hammer to crush grog and charcoal before adding it to the clay, students had to get creative, with hammers, rolling pins, a pestle and mortar and even an empty prosecco bottle being used to complete the task. 
The lockdown experiment turned into to an international distance experiment, with students carrying out their experiments in South Yorkshire, Canada, Chile and Taiwan. Students met weekly online to share progress on the experiment, taking photos and videos to record what they did and to share with each other. 
"We have just completed our experiment and we have some interesting results.," says Yvette. "Some of the moulds were far more successful and the ingredients added made a clear effect on the smoothness of the cast object."
"Having a practical activity which we could carry out made such a difference to remote learning during this difficult time. As well as it being something fun to do while stuck at home. I am so proud of how the students have adapted and managed with this situation, as well as how seriously they have taken the project and the time and effort they have put into it.  We have all had a lot of fun, but we have been carrying out a valuable scientific investigation that has added more understanding to Bronze Age copper production, and we are excited to publish the results."  
Amy-Eva Nutall, a student on the module, agrees: "The experiment was a really hands on way to engage with my uni work when I couldn't be in uni. it helped me to feel more connected with my classmates and department during strange times, and gave us all something to discuss together and feel less like we are flung across the globe."
A world-class university – a unique student experience
Sheffield is a research university with a global reputation for excellence. We're a member of the Russell Group: one of the 24 leading UK universities for research and teaching.