Christopher Aris
BSc, MSc, FRAI
Department of Archaeology
Teaching Associate in Anatomy and Osteology
Co-Course Director – MSc Human Osteology and Funerary Archaeology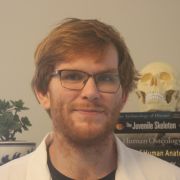 c.aris@sheffield.ac.uk
Ella Armitage Building
Full contact details
Christopher Aris
Department of Archaeology
Ella Armitage Building
40 Leavygreave Road
Sheffield
S3 7RD

Profile

I am a trained osteologist and biological anthropologist with a BSc in Biological Anthropology (University of Kent) and an MSc in Human Osteology and Funerary Archaeology (University of Sheffield). I am also a current PhD candidate in Biological Anthropology awaiting my viva examination having submitted my thesis in July 2020.

Within and between my degree studies I have worked as a lab demonstrator, teaching assistant and assistant lecturer, on modules spanning current issues in human evolution to forensic methods of identification.
Qualifications

BSc (Hons) Biological Anthropology
MSc Human Osteology and Funerary Archaeology
PhD Anthropology (thesis submitted awaiting viva)
Research interests

Osteology and dental anthropology (macro- and micro-)
Dental histology
Dental and osteological sexual dimorphism
Human dental development and morphology
Enamel thickness and growth rates
Roman to modern day transition
Ethics in anthropology

---

Supervision

I am interested in supervising MSc student dissertations focussing on osteology, dental development and morphology or dental histology.
Teaching activities

Postgraduate

Human Anatomy (coordinator)
Human Osteology (coordinator)
Osteoarchaeological Assemblage Analysis (coordinator)

Undergraduate
Professional activities

Fellow of the Royal Anthropological Institute
Peer reviewer for the American Journal of Physical Anthropology, Dental Anthropology Journal, and the Journal of Archaeological Science
Member of the Skeletal Biology Research Centre

---

Public Engagement

Invited Talks

Lingfield College – From GSCEs to PhD: Postgraduate Study and Career Paths in Bioarchaeology
University of Kent – Dental growth and tooth categories
University of Kent – Temporal variation in enamel growth rates and thickness in British populations
Lingfield College – The Truth Behind the Bones: Careers in Bioarchaeology and Forensic Anthropology
Lingfield College – My Journey into the Grave: Osteology and Human Identification
St John Fisher School – Digging up the Dead: Insights into Forensic Anthropology and Bioarchaeology

Podcast Appearances

AnthroBiology Podcast – The student experience in anthropology
The Arch and Anth Podcast Seminar – How can post graduates take care of their studies and mental health?
The Arch and Anth Podcast – How has human tooth enamel evolved over the last 2,000 years of British history?
Publications

Journal Articles

Aris, C. Street, E. (2020). Growth rates of accessory human enamel: a histological case study of a modern-day incisor from Northern England. Dental Anthropology Journal. In press.
Aris, C. Mahoney, P. Deter, C. (2020). Enamel growth rates on anterior teeth in males and females from modern and ancient British populations. American Journal of Physical Anthropology.
Aris, C. Mahoney, P. O'Hara, C. M. Deter, C. (2020). Enamel Thickness and Growth Rates in Modern Human Permanent First Molars over a 2000 Year Period in Britain. American Journal of Physical Anthropology.
Aris, C. (2020). The Histological Paradox: Methodology and Efficacy of Dental Sectioning. Papers from the Institute of Archaeology, 29(1).
Aris, C. Nystrom, P. Craig-Atkins, E. (2018). A New Multivariate Method for Determining Sex of Immature Human Remains using the Maxillary First Molar. American Journal of Physical Anthropology, 167(3), 672-683.

Published Abstracts

Mahoney, P. Pitfield, R. McFarlane, G. Loch, C. White, S. Sabel, N. Skinner, M. Bayle, P. Le Luyer, M. Floyd, B. Aris, C. Deter, A. Guatelli-Steinberg, D. (2020) Deciduous enamel growth rates in modern and ancient children. American Journal of Physical Anthropology. In press.
Aris, C. Mahoney, P. O'Hara, C. M. Deter, C. (2020). Inter-population differences in enamel secretion rates: a comparison between modern and ancient populations. American Journal of Physical Anthropology. In press.
Aris, C. Mahoney, P. Deter, C. (2018). Evidence for microevolution in enamel growth rates: preliminary results. American Journal of Physical Anthropology. 165, 12.

Online Articles