Cait Scott
BA, MA
Department of Archaeology
Research Student
Thesis- The Evolution of Audley End: the material culture of a medieval monastery and early modern mansion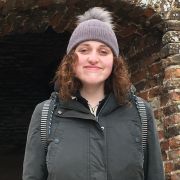 cascott1@sheffield.ac.uk
Minalloy House
Full contact details
Cait Scott
Department of Archaeology
Minalloy House
Regent Street
Sheffield
S10 2TN

Qualifications

2017- MA Archaeology (Medieval and Post-Medieval strand) – Durham University (Distinction)
2016- BA (Hons) Archaeology – University of York  (1st Class)
Research interests

Thesis- The Evolution of Audley End: the material culture of a medieval monastery and early modern mansion

This PhD is a collaborative doctoral partnership with English Heritage about Audley End, a mostly seventeenth century country house outside Saffron Walden in Essex.

Audley End transitioned from a Benedictine monastery to an early modern mansion, linked to the secularisation of monastic space in the post-Reformation period and the changing fortunes of its owners as they navigated Tudor and Jacobean society.

This project explores the changing nature of Audley End through the analysis of its material culture, structural remains, and historical sources to draw out patterns and changes in the lives of successive occupants and those who worked for them.

The primary source of information for this research is an archaeological archive created after excavations in the 1980s.

It aims to demonstrate the potential of archaeology and archaeological collections to inform the understanding and heritage presentation of English country houses, an approach that owes much to American scholarship.
Grants

2017 – Present- AHRC CDP Award with English Heritage 
2017- Rosemary Cramp Fund for masters dissertation research