Emily La Trobe-Bateman
BA (Hons), MA
Department of Archaeology
Research Student
Thesis- Snowdonia's Early Fieldscapes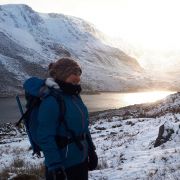 ELaTrobe-Bateman1@sheffield.ac.uk
Minalloy House
Full contact details
Emily La Trobe-Bateman
Department of Archaeology
Minalloy House
Regent Street
Sheffield
S10 2TN

Profile

I returned to the University of Sheffield and academia after more than 20 years working as an archaeologist in England and Wales. Hills and mountains have been consistent companions throughout my career and the opportunity to carry out research in Snowdonia is a high point - in every sense!

My research on Snowdonia's early fieldscapes is funded through a Collaborative Doctoral Award with the White Rose College of Arts and Humanities (WRoCAH), Arts and Humanities Research Council (AHRC) and Snowdonia National Park Authority. The results will be used by staff at the park to inform future conservation and new public interpretation materials.

Collaboration has been central to my professional life. After finishing my undergraduate degree at Sheffield in the 1990s, I worked for the English Heritage designation team in London before moving to Bristol to research the history and archaeology of small towns in south-west England. Based in a local government planning department, I worked alongside an eclectic group of colleagues, including natural environment professionals who had started to use GIS via the highways department licence! I completed 22 'extensive urban' studies and went on to write up the Intensive Urban Survey for the City of Bath; the work was funded by English Heritage. These projects were designed to help inform and improve decision-making for development-related archaeology: the use of GIS and work to enhance digital records were an integral part of this process. 

I was very fortunate to spend the next part of my career living and working in north-west Wales. Not only is it a beautiful and fascinating place but it was also a region with great potential to develop curatorial practice through partnerships and collaboration. Initially appointed as the development control archaeologist for north-west Wales, I went on to manage the regional historic environment service for Gwynedd, Anglesey and Conwy local authorities. The service included the maintenance and management of the regional Historic Environment Record (HER), the provision of development and countryside management advice to national and local government, and an outreach and education programme.

I successfully applied for many grants to develop and expand the work of the historic environment team. These included collaborations with universities, such as the development of an early historic environment data mobile app with the University of South Wales and Knowledge Transfer Partnership (KTP) with Bangor University. Other partnerships included collaborations with the Council for British Archaeology (Skills for the Future grant programme), Snowdonia National Park Authority and the Urdd (Young Roots grant programme), and youth volunteering grants (Gwirvol). Many of these projects enhanced access to historic environment collections and information using digital platforms; they involved working with artists, data scientists and outdoor activity providers on projects to inspire and engage new audiences.

More recently I worked with project staff from Snowdonia National Park Authority to help complete a successful Landscape Partnership application to the National Lottery Heritage Fund on behalf of the Carneddau Landscape Partnership, co-authoring its Landscape Conservation Action Plan (2019). The 5-year £4.17 million scheme will conserve key wildlife, habitats and archaeological remains, increase understanding and skills, and improve access to the area's landscape heritage. Alongside practical landscape projects such as creating new meadows and removing invasive species, are several projects based on newly collected, high resolution lidar and digital historic environment resources viewed using GIS.

*Lidar is a survey method that uses pulsed laser light to measure distances between a plane-mounted sensor and a target (usually the ground surface).
Qualifications

2016 –  Present- PhD Candidate – Department of Archaeology, The University of Sheffield
2002- MA Material Culture Studies –  Department of Anthropology, University College London
1994- BA (Hons) Archaeology and Prehistory
Research interests

Thesis- Snowdonia's Early Fieldscapes

Thesis Abstract

My research explores how and why the uplands of Snowdonia were first enclosed more than two thousand years ago. Evidence for this process survives in the form of early field boundaries, enclosures and round houses – 'fieldscapes' – which can still be seen on the ground in parts of north-west Wales today. 

Early fieldscapes extend far wider than survey has previously suggested. Rapid aerial mapping is possible using lidar, a survey method that uses pulsed laser light to measure distances between a sensor and a target. Lidar has become a powerful tool in archaeology because it can produce very detailed surface maps of landscapes, revealing archaeological features that are difficult or impossible to observe on the ground or using aerial photographs.

Through mapping and analysis, my research aims to address a major gap in knowledge about the extent, coherence and complexity of later prehistoric and Roman fieldscapes of north-west Wales. Were enclosures used for corralling stock? Did field boundaries partly develop as land was cleared of large stones to allow cultivation? How does the layout and distribution of fields relate to the way land rights and access were organised? It is not known whether enclosure took place as part of a subsistence economy where animals were central to the life of communities living in the uplands, or if nutrient-rich soils in newly deforested areas were planted with crops.

Making connections between people and places millennia ago is difficult without falling back on assumptions that are based on the way we relate to land and food production in the modern world: settlement and farming invoke permanence; land enclosure is linked to ownership; the concept of economic viability and ideas of marginality influence explanations of change. Challenging these preconceptions is important to understanding early land use in north-west Wales

Mapping the extent and character of early fieldscapes will contribute to a better understanding of their initial development, how they changed over time and in what ways they influenced later landscapes. I hope my research will also inform debates about the future of Snowdonia's uplands, demonstrating that social, economic and ecological change have always been inextricably linked.
Grants

2019- White Rose College of Arts and Humanities (WRoCAH) Research Project Award

2018- Landscape Survey Group Bursary, International Landscape Archaeology Conference

2016 – 2020- White Rose College of Arts and Humanities (WRoCAH) AHRC Collaborative Doctoral Award
Teaching activities

2016 – 2017- ThinkCreate Facilitator – University of Sheffield
Professional activities

2019- Research Project Placement, Department of Geography & Earth Sciences, Aberystwyth University
2018 – 2019- Consultant, Partneriaeth Tirwedd Y Carneddau Landscape Partnership
2017 – 2018- Member of the Project Advisory Panel, The Grave Goods Project (joint project between the universities of Reading and Manchester, and the British Museum)
2017 – 2018- Department of Archaeology Equality and Diversity Committee member, University of Sheffield
2017- Research placement, Royal Commission on the Ancient and Historic Monuments of Wales
2009 – 2016- Principal Curatorial Archaeologist, Gwynedd Archaeological Trust
2005 – 2009- Senior Development Control Archaeologist, Gwynedd Archaeological Trust
2001 – 2005- Development Control Archaeologist, Gwynedd Archaeological Trust 
1995 – 2001- Project Research Officer (Extensive and intensive urban area surveys): Bath and North East Somerset Unitary Authority (formerly Avon County Council)
Publications and Conferences

Publications

La Trobe-Bateman, E. 2019. Discovering the Carneddau. Eryri / Snowdonia (Cymdeithas Eryri, Snowdonia Society, Autumn edition).

La Trobe-Bateman, E. 2018. Review: Transhumance Session at Landscape Archaeology Conference, 2018, chaired by Landscape Survey Group (LSG) members Mark Bowden and Peter Herring. Winter LSG Newsletter 

La Trobe-Bateman, E. & Niblett, R. 2016 'Bath: An Archaeological Assessment. A study of settlement around the sacred hot springs from the Mesolithic to the 17th century AD'. Oxford: Oxbow.

Möller, K., Griffiths, S., Edwards, B., Wilson, A., Karl, R., Labrosse, F., La Trobe-Bateman, E., Miles, H., Roberts, J. C. & Tiddeman, B. 2015. Small Works, Big Stories. Methodological approaches to photogrammetry through crowd-sourcing experiences. Internet Archaeology 40.

Roberts, J. C., Karl, R., Roberts, J. T., Wilson, A. T., Möller, K., Miles, H. C., Edwards, B., Tiddeman, B., Labrosse, F. & La Trobe-Bateman, E. 2014. Picture This! Community-Led Production of Alternative Views of the Heritage of Gwynedd. Journal of Community Archaeology and Heritage 1: 23-36.

Edmonds, M., Johnston, R., La Trobe-Bateman, E., Roberts, J. G. & Warren, G. M. 2009. Ynys Enlli: Shifting Horizons. In Mesolithic Horizons: Papers presented at the Seventh International Conference on the Mesolithic in Europe, Belfast 2005, eds. S. McCartan, P. Woodman, R. C. Schulting & G. Warren. Oxford: Oxbow.

Reports

Roberts, J.G. & La Trobe-Bateman, E. 2019. Carneddau Landscape Conservation Action Plan. Commissioned by Snowdonia National Park Authority on behalf of the Partneriaeth Tirwedd Y Carneddau Landscape Partnership

La Trobe-Bateman, E. 2017. Conservation Management Scoping Report: Prince of Wales Quarry Slate Quarrying Landscape, Cwm Pennant.

La Trobe-Bateman, E. 2017. Conservation Management Scoping Report: Gorseddau Slate Quarrying Landscape, Cwmstradllyn.

Stockwell, A., Steele, N. & La Trobe-Bateman, E. 2015. Historic Environment Record (HER) Audit (Wales) VERSION 2.1 December 2014 – September 2015. Gwynedd Archaeological Trust.

La Trobe-Bateman, E. & Flook, R. 2014. Great Orme Historic Environment Management Plan. Gwynedd Archaeological Trust, report number 1182

Conference Papers

La Trobe-Bateman, E. 2018. Snowdonia's Early Fieldscapes: developing a regional mapping methodology to study late prehistoric and Roman field boundaries, enclosures and settlement in north-west Wales. Paper presented at the International Landscape Conference. Newcastle, UK.

La Trobe-Bateman, E. 2018. Collaborating in regional research: the early fieldscapes of Snowdonia. Paper presented at the Chartered Institute for Archaeologists (CIfA) annual conference. Pulling together: collaboration, synthesis, innovation. Brighton, UK