Jane Ford
Department of Archaeology
Research Student
Thesis- Hyaenas and Neanderthals in the British Middle Palaeolithic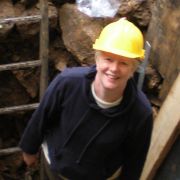 jaford1@sheffield.ac.uk
Minalloy House
Full contact details
Jane Ford
Department of Archaeology
Minalloy House
Regent Street
Sheffield
S10 2TN

Qualifications

2012 – Present- PhD Candidate – Department of Archaeology, The University of Sheffield
2012- MA European Prehistory – University of Sheffield (Distinction)

Dissertation- Neanderthal site-use patterns in South-West France during MIS6–3.

2010- BA (Hons) Archaeology – University of Sheffield (1st Class)

Dissertation- Variability in Neanderthal hunting strategies.
Research interests

Thesis- Hyaenas and Neanderthals in the British Middle Palaeolithic

I am interested in Middle Palaeolithic archaeology and all aspects of Neanderthal behaviour. One specific area is that of Neanderthal subsistence strategies, particularly their exploitation of different types of prey within the context of changing environments. I am also interested in the development of Upper Palaeolithic cave art.

---

Thesis Abstract

This research aims to establish the ecological niche of spotted hyaenas and Neanderthals in Britain during two periods of the Upper Pleistocene.

The earlier period (Marine Isotope Stage 5e, 130 – 115 kya) has evidence of hyaena accumulated assemblages only as there is no unambiguous evidence of human occupation during this time while the later period (Marine Isotope Stage 3, 60 – 35 kya) has evidence of both.

Stable isotope analysis has shown that hyaenas and Neanderthals were top-level carnivores and European data show that they were dependant on the same range of large herbivores. It is possible that hyaenas and Neanderthals inhabited the same environments during MIS3 and therefore would have been direct competitors for resources.

While much of the past research has focused on the predator-prey relationship between Neanderthals and their prey or hyaenas and their prey, the nature of any interaction between the predators themselves is very poorly understood.

Research in modern day Africa has shown that hyaenas are attracted to human settlement areas for the scavenging opportunities, and it may be the case that Neanderthals actively scavenged from hyaena kills in the Middle Palaeolithic.

This research will therefore focus on faunal assemblages from Middle Palaeolithic open air and cave sites to establish the taxonomic nature and diversity of prey, body part distribution and age structure of the prey, taphonomic features of the assemblages and the morphometric nature of both hyaenas and the herbivores.

Comparisons can then be made between the hyaena accumulated assemblages of both time periods to establish any differences in predatory behaviour and whether this may be due to increased competition with Neanderthals for resources in MIS3.
Professional activities

Fieldwork

2010, 2012- Creswell Crags, Derbyshire – Palaeolithic cave site
2011 – 2012- Stones of Stonehenge Project
2006 – 2009- Stonehenge Riverside Project
2007- Saint Mary Magdalene Chapel, Bawtry – Medieval cemetery
2006 – 2007- West Halton, Lincolnshire – Anglo-Saxon and Medieval settlements

---

Scholarships

2012- University of Sheffield Faculty of Arts and Humanities Scholarship for PhD research
2010- Arts and Humanities Research Council Scholarship for MA