Martina Monaco
BSc, MSc
Department of Archaeology
Research Student
Thesis- A critical examination of social stratification in prehistoric Cyprus using skeletal and funerary data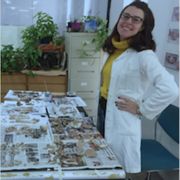 MMonaco1@sheffield.ac.uk
Minalloy House
Full contact details
Martina Monaco
Department of Archaeology
Minalloy House
Regent Street
Sheffield
S10 2TN

Qualifications

2016- Post MSc (Italian university master) Bioarchaeology, Paleopathology and Forensic Anthropology – University of Bologna. Pisa and Milano
2014- MSc Archaeology and Ancient History –  University of Torino (first class)
2012- BSc Cultural Heritage Studies – University of Torino
Research interests

Thesis- A critical examination of social stratification in prehistoric Cyprus using skeletal and funerary data

Thesis Abstract

This project is designed to investigate the emergence of social stratification through the analysis of osteological and archaeological material from Chalcolithic - Late Bronze Age Cypriot cemeteries.

An integrated approach will enable the combination of skeletal evidence for activity and lifestyle with select funerary elements sensitive to social changes (e.g. grave goods, tomb architecture) in order to generate new data to critically review status-based differentiation within prehistoric communities.

The rise of elites in prehistoric Cyprus is a widely-debated by archaeological scholars. Nevertheless, there is little consensus on the answers to essential question such how to identify the incipient stages of this social phenomenon or the definition of probable indicators of social status within the archaeological record.

While funerary evidence has long been a key source of data in these debates, skeletal analysis has been widely neglected. Moreover, recent excavations of crucial archaeological sites have provided new evidence, both funerary and osteological, which may transform our perception of social complexity in prehistoric cultures.

In consequence, an integrated approach to this argument capitalizing on skeletal and funerary as well as old and new data has become critical, as new, more effective methods have been developed to interpret the bodily implications of social inequalities.
Grants

2018 – Present- The Andrew Sherratt Fund Grant
2017 – Present- A.G. Leventis Foundation Grant
2018 – 2019-The Vronwy Hankey Memorial Fund for Aegean Studies
Professional activities

2019 – 2020- Research Fellowship – Dipartimento di Ricerca Traslazionale e delle Nuove Tecnologie in Medicina e Chirurgia, Università di Pisa

---

Memberships

AgEstimation Project, Istituto di Medicina Legale, Università di Macerata
Missione Archeologica Italiana at Erimi Laonin tou Porakou
BABAO, CBRL, Leventis A.G. Foundation
Publications and Conferences

Conferences and Papers

Monaco, M., Exploring changes in activity patterns among Cypriot Chalcolithic and Bronze Age communities, Cypriot archaeology, pre-modern material culture, and cultural heritage in the UK, UCL, London

Monaco, M., A bioarchaeological approach to the rise of social stratification in prehistoric Cyprus: An analysis of activity-related stress patterns in Chalcolithic and Bronze-Age human remains, Overcoming past preservation issues. Current Research in Bioarchaeology in Cyprus, Austrian Academy of Sciences, Vienna 2018

Muti, G., Fissore, M., Saggio, A., Monaco, M., Symbols beyond Work Activity? Towards the Evaluation of the Significance of Spindle Whorls in Early and Middle Bronze Age South Coast Cemeteries, in POCA 2014 Postgraduate Cypriot Archaeology Conference

Publications

Monaco M.(2018), Preliminary anthropological analysis of osteological material. in L. Bombardieri, Excavations at Erimi-Laonin tou Porakou: 2018 Preliminary Report, Department of Antiquities of Cyprus, 21

Albertini, E. and Monaco, M. (2017) Human Remains. Pp. 305-319 in L. Bombardieri, Erimi Laonin tou Porakou. A Middle Bronze Age Community in Cyprus. Excavations 2008–2014. Studies in Mediterranean Archaeology 145. Uppsala: Åströms Förlag

Monaco M. (2017) Preliminary anthropological analysis of osteological material. in L. Bombardieri, Excavations at Erimi-Laonin tou Porakou: 2017 Preliminary Report, Department of Antiquities of Cyprus, 18-19

Monaco M. (2016), Preliminary anthropological analysis of osteological material. in L. Bombardieri, Excavations at Erimi-Laonin tou Porakou: 2016 Preliminary Report, Department of Antiquities, Cyprus, 14-15