Theresa Nelson
BSc, BA, MA
Department of Archaeology
Research Student
Thesis- Society and Energy: An archaeological approach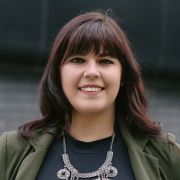 Qualifications

2016- MA in Anthropology (Archaeology) – University of Pittsburgh
2014- University of Pittsburgh

Bachelor of Science in Geology 
Bachelor of Arts in Anthropology (Archaeology) 
Minor in Chemistry 
Research interests

Thesis- Society and Energy: An archaeological approach

My research interests include-

Human-Environment relations
Resource exploitation strategies among mobile pastoralist communities
Zooarchaeology
Isotope Geochemistry
Isotopic Analysis of Faunal Remains
Human Dietary Variation
Human-Animal-Environment Relationships
Environmental Archaeology, Pastoralism
Eurasian Steppe Prehistory
Ethnoarchaeology
Mobile Pastoralism in the Eurasian steppes
Teaching activities

During my Master's studies at the University of Pittsburgh (2014-2016), I was teaching assistant for four semesters and a teaching fellow for one semester.

I was the teaching assistant for two undergraduate archaeology lab courses, including "Archaeology Lab Practicum" and "Advanced Lab Analysis," taught by Dr. Kathleen Allen.

I was also the teaching assistant for a combined undergraduate and graduate course, "Zooarchaeology," taught by Dr. Bryan Hanks.

Additionally, I was the head teaching assistant for a 300-person undergraduate archaeology class, "The Archaeologist Looks at Death," under Dr. Marc Bermann.

Finally, as a teaching fellow, I taught an undergraduate course, "Zooarchaeology."
Professional activities

Awards & Scholarships

January 2017 – May 2021- Grantham Centre for Sustainable Futures Studentship 
2015- National Science Foundation Graduate Research Fellowship Program Honorable Mention

---

Field experience

Since 2011, I have participated on multiple archaeological research projects around the world, including the Russian Steppe, Northeastern Serbia, the Salmon River of Idaho in the United States, and both central and Western Mongolia.

These research projects focused on different time periods, from the Late Neolithic to the Early Iron Age.

Work included excavations, recording, collecting and organizing artifacts, surveying, geophysical surveying, soil sampling, faunal analysis, ethnoarchaeology, ethnographic interviews, lab work, data entry, and in one case, supervising 12 undergraduate students.