The Sheffield School of Architecture Summer Exhibition showcases the outstanding work undertaken by our students over the year.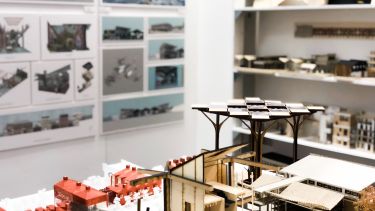 Design projects are exhibited on floors 16 and 17 of the Arts Tower and include all degree levels within the School. The popular event attracts a large number of guests from practice and industry to alumni and academia. Visitors have the chance to view work by over 500 students which include models, drawings, videos and installations.
Subscribe to our exhibition invitation list
2019 Exhibition
Our 2019 exhibition launch took place on Friday 14 June. During the afternoon we hosted an Employers' Preview event where we welcomed practices and organisations to the exhibition giving them the opportunity to meet graduating students from our degree (RIBA Part 1) and MArch (RIBA Part 2) courses.
At the launch event our staff, students, friends and family celebrated a year of hard work and achievements. Annual prizes were awarded during this event and we launched the 2019 catalogue.
2019 Prize Winners
First-Year Prize in Architecture
Katherine Langley
Mohammed ElAshry Memorial Prize
Olivia Clermont
Marcus Humphrey-Gaskin Memorial Prize
Joshua Burge
Dr Brian Wragg Prize in Architectural Draughtmanship
Kathryn Luckett
Robert Cawkwell Prize in Architecture
Holly Hearne
Mansell Jenkinson Prize in Architecture
Glenn Strachan
Stephen Welsh Prizes in Architecture
Architecture:  Anna White
Draughtsmanship:  Ben Warren
The BDP Live Project Prize
Ingle Way Group
Robert Henry Memorial Prize
Sacha Bennett-Ford
Sir H K Stephenson Travelling Studentship in Architecture
Samuel Morley & Elin Keyser
Kenneth H Murta Prize in Architecture
Karolina Kaminskaite
J K Page Prize in Environmental Science
Monty Dobney
School of Architecture Centenary Prize
Matthew Forbes-Yandi
RIBA Bronze Award Nomination
Freya Williams
Max Bridge
RIBA Silver Award Nomination
Thomas Cunningham and Tobias Mackrill
Cressy Lopez and Christie Tan
RIBA Dissertation Prize Nomination
Karolina Kaminskaite
HLM Design and Management Prize
Raluca Burlacu
The West Yorkshire Society of Architects
Gianmarco Cannizzo
Sarah Rhule
Cecelia Vincent
Jonathan Foulger
Cressy Lopez and Jia Wen Tan
Bryan Jefferson Prize for Excellence in Architecture
Tobias Mackrill and Thomas Cunningham
The Sheffield Society of Architects Prize
Kallum Lightfoot
MSMR Travel Award
Alem Derege
London Exhibition 2019
On 17-18 June we once again welcomed architects, alumni, friends and family to view a selection of design work from our undergraduate (RIBA Part 1), MArch (RIBA Part 2) and Postgraduate Taught Masters students.
---
Exhibition photos