Seven years of work at Castlegate recognised in an international exhibition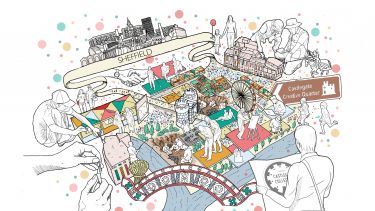 Seven years of work from the Sheffield School of Architecture is being recognised in an international exhibition in Denver, US. The Design for the Common Good Exhibition opens on 14 January, 2022, and presents the Imagine Castlegate work alongside other international works of public interest design. 
Working in Castlegate has been a real labour of love for those of us who have been involved over the last seven years. It's wonderful to have, through this exhibition, international recognition of the value of all the design ideas, research and engagement activities co-produced by the School of Architecture with our local partners.

Carolyn Butterworth

Live Works Director
About Imagine Castlegate
The historic birthplace of the city of Sheffield, Castlegate was once home to 800 years of market trading, theatres, industry and one of the largest castles in England. Castlegate is now struggling - many of its buildings are empty, footfall is minimal, and dilapidation is taking hold. However, the area holds strong social and cultural value for the local people. Demolition of the modernist Castle Markets in 2014 left the community feeling undervalued and ignored. Sheffield School of Architecture was motivated to help citizens and community groups ensure that they had a voice in decisions about regeneration to come.
Since 2014, Sheffield School of Architecture staff, students and graduates have been coproducing design work and participatory research with local groups and civic stakeholders to develop a vision for future development of the site. This exhibition "Imagine Castlegate" showcases a collective, community-focused co-production process to envision, campaign for, and support the development of a new neighbourhood, accessible to all, that celebrates the rich heritage of Castlegate while creating a sustainable future.
Through Live Projects, Design Studios and Live Works the School of Architecture has been facilitating conversations, raising aspirations and visualising possible futures for Castlegate, in particular for the large site that once held the Markets and the Castle before them. Throughout the coproduction, speculative design proposals by our students have acted as powerful tools for connecting people with the rich heritage of the site, situating them in the present, and encouraging them to engage in co-design toward the future.
"Working in Castlegate since 2016 has challenged me to claim my own and others agency in the co-production of the city where I spent my formative years. It has provided connections and alliances to communities, researchers and innovators which will continue to shape my practice throughout my career in the city."

Thomas Moore

PhD Research Student
Making a Difference
Design ideas, research, and participatory activities have become powerful mechanisms for inspiring and mobilizing a diverse range of local actors.
Friends of Sheffield Castle adopted the architecture students' vision produced in collaboration with local actors in their "Blueprint for the Castle Site," which has become a shared objective for the Castlegate Partnership, including Sheffield City Council.
A Live Project vision, developed by Live Works has been instrumental in the inception and delivery of Harmony Works, a new landmark project for young people's music education in Castlegate.
Experience Castlegate, an augmented reality installation, has been viewed by 1,500 people, raising awareness of the historic importance of the site. The Sheffield Castle book, the definitive publication on the archaeology of the site, featured work by School of Architecture students to depict the future vision.
The School has played a key role in the development of a co-produced vision for Castlegate that has been adopted by Sheffield City Council and recently awarded £18M through the national Levelling Up Fund. Live Works continues to work with the Council to deliver stakeholder workshops and public engagement.
A world-class university – a unique student experience
Sheffield is a research university with a global reputation for excellence. We're a member of the Russell Group: one of the 24 leading UK universities for research and teaching.