Professor Fionn Stevenson
Professor of Sustainable Design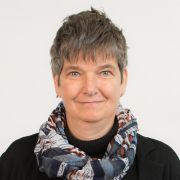 Profile

I am passionately interested in an underpinning ecological approach to sustainable design in order to address climate change. I studied architecture at the Universities of Cambridge and Sheffield before working in practice as a community architect in Lancashire and Scotland.

My interest lies in the deep tacit knowledge that people have in relation to buildings and the means of accessing and utilising this in design through occupancy feedback in order to make building work better.

A key aspect of this is reducing unnecessary resource consumption in buildings at every level and finding new ways to do this. I have previously held academic appointments in five Universities in the UK and act as visiting lecturer, critic and external examiner internationally.

I am currently  a member of the Design, Engagement and Practice (DEP) research  group. 
Research interests

My research aims to situate the sustainable design of architecture within a bioregional context integrating people, processes and place. This relates directly to the inhabitants experience, and focuses on sustainable housing as a typology.

I am interested in low energy design, carbon positive buildings and environments, occupancy feedback, and the ecological specification of materials and products. This has established my approach to evidence-based design and building performance evaluation (BPE). This is situated within a developing understanding of the way people interact with technology and applied principles of design in relation to specific physical and cultural environments.

Postgraduate Research Supervision Interests

sustainable design
building performance evaluation
housing occupancy feedback
occupant behaviour
bioregionality
ecological construction materials and products
design for usability
deconstruction and re-use
Publications

Books

Journal articles

Chapters

Conference proceedings papers

Reports
Research group

PhD first supervisor:

Kate Fewson
Frances Ziyad
Alberto Urrutia
Jenny Brierley
Grants

2016

GLOSS Award. Evaluating the usability of university campus buildings: a case study in Mexico. The University of Sheffield, Co-Investigator with Jack Baker, £1,980.
Santander Research Mobility Award, POE in Existing Housing in Uberlandia, Lead Academic working with Garrefa, F and Villa, S. Universidade Federal de Uberlândia, The University of Sheffield, £4,000.

2014

ESRC Seminar Series, in partnership with the UK Cohousing Network and 5 other UK universities (BH148250). Collaborative and Resilient Housing. Principal Investigator Dr.Helen Jarvis,The University of Newcastle. £28,000 total grant. Co-Investigator.
SURE funding, Matching domestic load profile with on-site Photovoltaic energy generation – case study and action research, The University of Sheffield, £1,230

2013

EU Marie Curie Intra-European Fellowship BuPESA, Host Supervisor, £247,388
Technology Strategy Board, Building Performance Evaluation Legacy Scoping Study, Co-author, £3,895
AHRC, Home Improvements: Motivating Collective Custom Build, Principal Investigator, £39,806

2012

Atelier d'architecture Autogérée R-Urban Project, EU Life Programme, Expert Workshop, £1,011
TSB, Lancaster Co-housing, Lancaster Co-housing Initial Occupancy Study, Principal Investigator (with Leeds Metropolitan University), £60,102

2010

TSB, Ecos Homes, Stawell, Initial Occupancy Study, Principal Investigator, £49,613.
TSB,Homes and Community Agency, Hanham Hall Carbon Challenge Programme, Initial Occupancy Study, Principal Investigator, £46,733.
TSB, Crest Nicholson PLC, Avante Initial Occupancy Study, Principal investigator, £67,263.
TSB, Building Performance Evaluation programme, Strategic Advisor, £4,800
Crest Nicholson plc, Post-occupancy evaluation strategy, Consultant, £9,000
DCLG and EST, Good Homes Alliance, Monitoring Phase 1, Lead Academic, £57,500 (overall project value with UCL and Leeds Metropolitan Uni, £300,000)
Oxford Brookes University, Post-occupancy Evaluation, OBU sabbatical to write book for Earthscan publishers, co-author Dr. Rajat Gupta, £15,714

2009

TSB, AIMC4, Lead Academic in Consortium of six national partners, £288, 000 (overall project value £6.5 million with Crest Nicholson, Barratt Homes, Stewart Milne Group, H+H Celcon and BRE)
Homes and Communities Agency, Guidance on Post-occupancy Evaluation of Carbon Challenge, Lead Academic with Arups Ltd. as subcontractor. £15, 000
BSLES, Research Methods and Design-An Open Learning Resource with Dr.Nicholas Walliman, Oxford Brookes University, £12, 208
Teaching interests

In architectural education I have consistently innovated appropriate teaching methods and promoting best practice in the pedagogy of sustainable design. My research-led teaching promotes a bioregional and eco-systems based approach to design.

Students are encouraged to explore means of "closing the loop" in terms of resource and energy use in design, using a combination of phenomenological, qualitative, place-bound approaches in tandem with more generic, quantitative technical studies.

Cutting edge sustainable design techniques and tools are continuously introduced as they are developed. Investigations are always close to hand to allow in-depth and richly descriptive research and design to take place.
Teaching activities

My current teaching responsibilities in the School of Architecture are:

Leader for MSc SAS Module ARC6821 ' Low Impact Building Materials: Theory
Dissertation supervisor for MArch Module ARC 566
Special Studies tutor for UG Module ARC322 Special Study
Lecturer on UG Module ARC107 Environment and Technology
Professional activities

Administrative roles

Board member Rural Stirling Housing Association
Committee Member Building Performance Network UK

Professional standing and distinctions

Visiting Professor, School of Architecture and Landscape Architecture, University of British Columbia, Canada, 2017
Visiting Professor, School of Architecture, Technical University of Wroclaw, Poland, 2016
Invited guest lecture and workshop, School of Architecture, Federal University of Uberlandia, Brazil, 2016.
Invited guest lecture and workshop, Postgraduate School of Architecture, UNAM, Mexico, 2016
Invited guest lecture, School of Architecture, Monterrey del Technico, Queretaro, Mexico, 2016.
Listed as one of 12 Royal Institute of British Architects 'Role Models' for diversity in 2015. http://www.ribaj.com/intelligence/riba-role-models
Listed in 2013 as one of Top 20 Most Influential Women in Sustainable Architecture in UK' by Architects Journal
Invited key-note speaker including: 3rd International Conference for Teachers in Architecture (2000), Construction Industry Environmental Forum UK (2000, 2001),Scottish Federation of Housing Associations National Conference (2000, 2001),World Renewable Energy Congress –Regional Meeting, Aberdeen (2005), WIT International Eco-Architecture Conference (2006), Celebrating CIRS, Vancouver (2011) Velux Healthy Building Day 2018
Board Director Good Homes Alliance, UK 2014-2015
Invited guest editor for special issue of Building Research and Information (top level international research journal on Co-producing Neighbourhood Resilience, October- November 2016
Invited guest editor for special issue of Building Research and Information (top level international research journal) on Adaptive Comfort in an Unpredictable World, May-June 2013,Volume 41, No.3
Invited guest editor for special issue of Building Research and Information (top level international research journal) on Housing Occupancy Feedback: Linking Behaviours and Performance, September 2010,Volume 39, No.5 – two of my papers were in 'Top 10 Downloads 2011' for BR&I.
Architype Architects awarded 'Cut the Carbon' National RIBA award in 2011 on the basis of the TSB KTP project Embedding a capability for post-occupancy studies of buildings for which I was Lead Academic.
Invited sessional Chair for major international conferences: Sustainability in Energy and Buildings (2014), Passive Low Energy Architecture (2007, 2008), The Oxford Conference: 50 Years On – Resetting the Agenda for Architectural Education (2008), Windsor Conference (2014, 2016), Architecture and Resilience at a Human Scale (2016)
Awarded " the highest grade" for DTI final report on Low Cost Earth Brick Construction: 2 Kirk Park, Dalguise, Monitoring and Evaluation in 2005
Invited to be inaugural assessor (one of only three) for Royal Incorporation of Architects in Scotland Sustainable Design Accreditation Scheme, which included devising criteria marking scheme in 2003 –this is internationally recognised as the first evidence-based scheme of its kind in the world.
Peer reviewer for International Research Journals: Building Research and Information, Building and Environment, Architectural Science Review, Facilities Management, Architectural Engineering and Design Management, Proceedings of the Institution of Civil Engineers journal Construction materials, Housing Studies, Open House International, Smart and Sustainable Built Environment, International, International Journal of Low-Carbon Technologies, Journal of Design and Nature, Eco-Architecture.
International Scientific Committee member: Architectural Science Association (2015,2016), Windsor Conference (2014, 2016),SEB (2014, 2015, 2016),SustainableBuildings13 Vancouver (2013),
Peer reviewer for EPSRC panel
Book reviewer for Wiley-Blackwell, BRE (Building Research Establishment), Routledge publications
External examiner for PhD candidates at University of Adelaide, Australia (2016), University of Nottingham (2014), UCL (2012, 2016), University of Sheffield (2007), University of Brighton (2006)
Internal examiner for PhD candidates at Oxford Brookes University (2009), The University of Sheffield (2012).
Successful completions as First Supervisor for 2 PhDs: Gloria Vargas (2016), Rafael Eurfrasio Espinosa (2016).
Currently supervising 4 PhD students at The University of Sheffield as first or co-supervisor.

Membership of Professional Advisory Panels

2013- 15 Standing Conference of Heads of Schools of Architecture/Architects Registration Board liaison committee member
2013- 15 Standing Conference of Heads of Schools of Architecture/RIBA Education liaison committee member
2013-15 Standing Conference of Heads of Schools of Architecture Council member
2013- Standing Conference of Heads of Schools of Architecture member
2012- Expert member Yorkshire and Humberside Design Review Panel
2010- 2012 Expert advisor on Zero Carbon Hub Task Group for Ventilation and Indoor Air Quality
2010-2016 Expert advisor for Technology Strategy Board's Building Performance Evaluation £8m programme. I helped to initiate, design and steer this new national research programme.
2010-2016 Technology Strategy Board accredited Building Performance Evaluator
2009 Expert assessor for Technology Strategy Board Low Impact Buildings Platform, Retrofit for the Future programme
2009 Invited expert for Focus on Behaviour Change, CLG Workshop 23rd October
2008-2011 Chair of Technical Monitoring Working Group, Good Homes Alliance
2007-2011 Member of Technical Working Group, Good Homes Alliance
2005 Expert Advisor on A Guide to Determining Best Practicable Environmental Options (BPEOs) for Recycling Demolition Waste, Concrete Technology Unit, University of Dundee and RMC Environment Fund
2005-2007 Member of Mainstreaming Sustainability in Housing advisory board for Scottish Federation of Housing Associations
2003-2007 Member of Steering Group for Sust, The Lighthouse Initiative on Sustainable Design for The Scottish Executive.
This was the first ever national programme for sustainable design in Scotland (£1 million public funding from Landfill Tax)
2003-7 Architect Assessor for Royal Incorporation of Architects in Scotland Sustainable Design Accreditation Scheme
2003-2005 Member of Dundee Sun City Advisory Panel
I helped to establish a multi-partnership initiative in Dundee to promote active solar systems in the city of Dundee
2002 Member of National Centre for Education in the Built Environment, Special Interest Group for Sustainability in Architecture
This group carried out a seminal survey of the teaching of sustainable design in UK Schools of Architecture which has become a policy lever for the RIBA
2000-14 Assessor in UK for Civic Trust Awards (various areas)
1998 Member of Working Group for Environment and Waste Strategy, Aberdeenshire and Aberdeen City Council Joint Strategic Team for Structure Plan
1996 Member of Working Forum for Energy, Friends of the Earth Scotland
1996 Royal Incorporation of Architects in Scotland representative on First Symposium on Sustainable Development, Scottish Environmental Education Council
1995 Advisor for Royal Incorporation of Architects in Scotland Practice Information
1993 Expert Focus Group on Domestic Energy Efficiency for Scottish Homes

Membership of Professional Bodies and NGOs

2015-16 Board Director of Good Homes Alliance
2013- Standing Conference of Heads of Schools of Architecture
2013- Member of Academic Network, Royal Institute of British Architects (RIBA)
2013- Member of Royal Institute of British Architects (RIBA)
2008- Academic member of Green Building Council, UK
2008- Member of EDGE network UK, sponsored by Low Carbon Trust
2007-15 Non-developer member of Good Homes Alliance
2005-11 Convenor of Housing POE group, Usablebuildings Trust, London
2003-2006 Chair of Scottish Ecological Design Association
2002-5 Founder committee member of Educators for Sustainable Architecture UK
1995- Member of The Sustainable Building Association (AECB)
1991-1997 Founder committee member for Scottish Ecological Design Association
1990-2007 Member Scottish Solar Energy Group
1988-1991 Director, Woodland Community Development Trust, Glasgow
1988 -2007 Associate of Royal Incorporation of Architects in Scotland (ARIAS)
1987- Registered Architect, Architects Registration Board