Dr Gustavo Sousa
BEng, MSc, PhD
School of Architecture
Research Fellow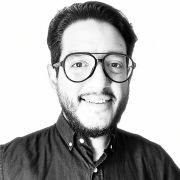 g.sousa@sheffield.ac.uk
Arts Tower
Full contact details
Dr Gustavo Sousa
School of Architecture
Arts Tower
Western Bank
Sheffield
S10 2TN

Profile

I am a researcher, engineer and tech enthusiast. I joined the school in 2017, after completing my PhD in Building Technology at the University of Nottingham. I have a bachelor's degree in Mechatronics Engineering, and an MSc in Energy and Engineering, on the topic of bioclimatic design.

My research focuses on the analysis of strategies to decarbonise housing stocks. This includes the further study of thermal flow and energy demands, as well as the integration of occupant behaviour, for representing indoor performances and processes of household decision-making. One of the major outcomes of my recent research has been the development of EnHub, an open-source simulation platform that processes survey data, and generates volumetric archetypes representing the housing stock, in an attempt to systematically perform parametric evaluations (incl. sensitivity analysis, evaluation of scenarios), and to integrate more sophisticated models of occupancy and usage (e.g. agent based models of household interactions and of diffusion of technology). I have expertise and experience in both academia and industry. I worked in practice for several years in the area of automation and technology, developing projects related to lighting, appliances and low-scale energy solutions, and also large-scale projects, involving BMS and HVAC installations. I also worked with Latin-America based companies, supporting projects around rainwater harvesting, multi-scale waste management, and corporate energy efficiency and conservation. I have been researching housing stocks for over more than ten years, looking at their composition and statistical representation, at the application of modelling techniques, and at their ability to inform and support policies and programmes across sectors.

Currently, I contribute to the work of the UK Collaborative Centre for Housing Evidence (CaCHE), as an UKRI Innovation Fellow.
Research interests

My research focuses on three main themes:

Stock analysis and statistical modelling

I am interested in studying the composition of the housing stock, its typologies, its services, and the accuracy of data characterising it. One of my major aims has been to develop a hub of data sources and models, so that further studies can be easily updated and improved, and the series of outcomes depending on them can be better tracked.

Housing stock energy models

I have been looking at the factors affecting energy performance in dwellings and the more rigorous representation of the building envelope—to faithfully evaluate energy flow pathways; of the occupant behaviour—to capture activities and responses happening in them; and of appliances and energy systems—to determine the magnitude of the energy demand.

Multiscale simulation and policy testing

I have been exploring different approaches to represent transitions of the housing stock, and the potential implications, being the main ones: use of high performance computing and cloud-ready workflows to scale the simulation size and iteration; development of contextual/conditional scenarios employing household data; emulation of processes of decision-making; application of diffusion of innovation models; and visualisation of pathways and stock trends.
Publications
Research group
Grants

RCUK Innovation Fellowship in UK Housing Stock Decarbonisation (2018 – 21): £268k, ESRC
Professional activities

Peer reviewer, Energy and Buildings (2017–)
Peer reviewer, Advances in Building Energy Research (2018–)
Reviewer, IBPSA Building Simulation (2017–)
Collaborator, CAR Ltd (2018)