Dr Maša Šorn
Dipl.Ing.Land.Arch (Ljubljana), MSc, PhD
School of Architecture
Postdoctoral Research Associate
Part of Live Works team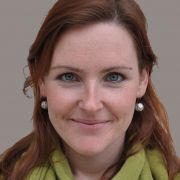 m.sorn@sheffield.ac.uk
Arts Tower
Full contact details
Dr Maša Šorn
School of Architecture
Arts Tower
Western Bank
Sheffield
S10 2TN

Profile

Currently I am working with Dr Tatjana Schneider and Carolyn Butterworth on a trans-national, interdisciplinary project Urban Education Live, investigating how collaborations between universities and cities can lead to future change with a particular focus on co-creative urban planning and governance mechanisms in urban areas.

I first joined the SSoA in 2013 as a Research Assistant and PhD student, working with Dr Rosie Parnell, Dr Jo Birch and Dr Maria Patsarika on a Leverhulme Trust funded project Children Transforming Spatial Design: Creative Encounters with Children.

My doctoral thesis, completed in 2017, focused on spatial literacy and the nature of communication between children and designers involved in spatial design processes.
Research interests

During my undergraduate years I co-founded PAZI!PARK, a non-profit organisation of landscape architects, passionate about engaging people in the use and design of open urban spaces through workshops, open air exhibitions, pop-up events and urban interventions.

The group is still active working on various projects in the areas of involvement and participation of spatial users in the process of urban design and planning in Slovenia.

My early career interests at The Urban Institute of Ljubljana included children and young people's use of public open spaces, playspace design, and spatial education. Besides practicing as a landscape architect and urban planner, I was also involved in Project R.A.V.E. Space: Raising awareness about values of space through the process of education (Interreg III B Cadses Project No. 5C025) as a Research Assistant to Dr Maja Simoneti.

After completing my MSc in Theory and Practice of Sustainable Design from the Welsh School of Architecture, my main research and professional focus was on regional sustainable development in the built environment.

As a project manager at the Regional Development Agency of Ljubljana Urban Region I worked on two transnational multidisciplinary projects TURAS: Transitioning towards Urban Resilience and Sustainability (EU 7th Framework Programme) and POLY5: Polycentric Planning Models for Local Development in Corridor 5 Territories and its TEN-T ramifications (European Cooperation Programme Alpine Space 2007-2013).
Publications

Books

Journal articles

Chapters

Theses / Dissertations
Grants

Leverhulme trust PhD studentship and Research Assistant position (2013-2016, PI Rosie Parnell SSoA)
Ad Futura studentship for MSc Theory and Practice in Sustainable Design (2008-2009, Welsh School of Architecture)
Golden pencil prize for high achievement in Urban planning (2009, Chamber of Architecture and Spatial Planning of Slovenia - as part of The Urban Institute of Ljubljana)