Dr Ambika Kapoor
Postdoctoral Research Associate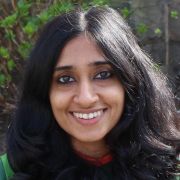 Profile

I have joined the Department of Landscape as a Postdoctoral Research Associate on a NERC project 'Voices of the Future: Collaborating with Children and Young People to reimagine treescapes'. I am working with Dr. Clare Rishbeth exploring and mapping young people's nature connections and activism in the UK.
Qualifications

B.Sc. Home Science, Lady Irwin College, University of Delhi
M.Sc. Human Development and Childhood Studies, Lady Irwin College, University of Delhi
PhD Childhood and Youth Studies, School of Education, University of Leeds
Doctoral Fellowship Programme, Department of Education, Federal University of Juiz de Fora, Brazil 
Research interests

I have a background in Childhood and Youth Studies and completed my PhD from the University of Leeds. My ethnographic research explored children's experiences with agency in an indigenous community in Chhattisgarh, India.

My areas of interest are interdisciplinary that include children's agency, childhood geographies, relationality, environmental activism and issues of social justice.
Grants

Lady Meherbai D TATA Trust Scholarship (2016)
Leeds Anniversary Research Scholarship (University of Leeds, 2016–19) 
Professional activities

I previously worked in a think tank Centre for Equity Studies and other organisations in India working on issues of early childhood, education, social justice and policies related to children.