Esti Nurdiah
PhD Research Student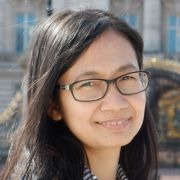 eanurdiah1@sheffield.ac.uk
Arts Tower
Full contact details
Esti Nurdiah
School of Architecture
Arts Tower
Western Bank
Sheffield
S10 2TN

Profile

Esti Nurdiah received a scholarship from the Indonesia Endowment Fund for Education (LPDP) for her PhD study. Her research interests are mainly focused on building materials and structure system in architecture. She has been interested in bamboo as a material for architecture and decided to explore the bamboo for her study. Through her current research, she aims to explore the utilisation of raw bamboo for gridshell structure by analysing the material, the structural morphology, the forces and the construction methods.

Esti was graduated from the Department of Architecture and Planning, Universitas Gadjah Mada (UGM) and her master degree in Environmental Architecture was from Institut Teknologi Sepuluh Nopember (ITS). Prior to her PhD studies, Esti has been teaching at the Department of Architecture, Petra Christian University in Surabaya, Indonesia. She taught courses related to building structure, building materials, and actively involved in the Design Studio courses.
Research interests

Project title: 
Raw Bamboo for Gridshell Structure: Formfinding and Construction of Gridshell Structure using Bamboo in Indonesia

Project outline: 
Bamboo, widely known as a sustainable material, has been used as a building material in Indonesia. Traditional buildings and houses in Indonesia utilised bamboo as a material for roof structure, wall and flooring systems. As roofing structure material, bamboo has been used to create the dynamic shape of the roof of traditional houses due to its flexibility and strength. Meanwhile, gridshell structure is one of shell structure constructed from grid and lattice. It is an efficient structure for long span roof and suitable with the climate in Indonesia, which has high solar radiation and precipitation. This research is seeking the feasibility of Indonesia bamboo as a material for gridshell structure system. Raw bamboo is round and hollow; as a natural material, it has non-uniform physical and mechanical properties; thus the application for gridshell structure will be challenging. The methods will be conducted in three stages: material test, simulation and experimental test. Material testing will assess both the physical and mechanical properties Indonesia bamboos species. The test will provide data needed for evaluating the structural behaviour of gridshell bamboo. The simulation will be done using Rhinoceros and Grasshopper as part of form-finding process, and Abaqus to seek the structural performance. Data of bamboo properties from material test will be used as input for material properties. The experimental test will be carried out by building a full-scale model and applying the real loads to the model. The experimental test aims to evaluate the construction and erection process, testing the form from simulation and assess the structural behaviour of the material and shell form. The result of the research will identify the critical factors of bamboo to be utilised in gridshell structure, explore the optimised form, and seek the potential construction process for building gridshell using natural bamboo.

Primary supervisor: 
Dr. Wen-Shao Chang

Co-supervisor: 
Dr. Tsung-Hsien Wang

Date started: 01/09/2019
Research group
Publications

Nurdiah, E. A. (2016). The Potential of Bamboo as Building Material in Organic Shaped Buildings. Procedia - Social and Behavioral Sciences, 216, 30–38.
Nurdiah, E. A. & Juniwati, A. (2020). Bamboo Architecture as a Learning Project for Community Development of Rural Area in Indonesia. IOP Conference Series: Earth and Environmental Science, 490, 012004.