Olivia Espinosa Trujillo
PhD Research Student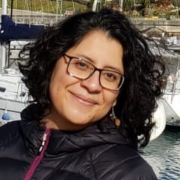 Profile

For the past three years I have been working on my research project as well as being involved in different teaching activities. I have collaborated in the design of different workshops and worked as a graduate teaching assistant at the School of Architecture.
Research interests

Project title: 
Mechanical behaviour of laminated-bamboo composites

Project outline:
I aim to predict and simulate the mechanical performance of laminated-bamboo composites when used as structural elements. The research aims to provide a tool to assess laminated bamboo's structural performance for the construction of reliable small-to-midsize buildings.

Primary supervisor: 
Dr. Wen-Shao Chang

Co-supervisor: 
Dr. Hassan Ghadbeigi and Professor Fionn Stevenson

Date started: 01/10/2017
Research group
Publications

Wang T, Espinosa Trujillo O, Chang W & Deng B (2017) Encoding bamboo's nature for freeform structure design. International Journal of Architectural Computing, 15(2), 169-182.

Espinosa Trujillo O & Wang T-H (2015) Parametric Modeling of Bamboo Pole Joints, Communications in Computer and Information Science (pp. 272-290). Springer Berlin Heidelberg.