A PhD is the highest level of degree that can be awarded. It is awarded upon completion of an extended piece of original written research that makes a unique contribution to existing knowledge in the subject.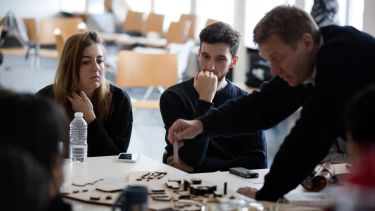 Undertaking a PhD gives you the opportunity to deepen your interest in a subject by studying in an area of your choice. PhD study provides you with a platform upon which you can take intellectual risks, think analytically and creatively, and develop a broad range of academic, professional and personal skills. A PhD is now widely recognised as a valuable degree by organisations in many sectors, not just academia.
You will be supported by at least two supervisors who facilitate your progress along the way. They will help you to shape your research, guide you in professional development, and support you in delivering your findings to a wider audience.
---
Course structure
We expect PhD students to complete in 3 years. During this time students have access to a range of training opportunities and facilities that they can use to support their studies.
Year one
During the first year of your research you are likely to spend some time reading the literature on and around the area you have chosen to study. You will also be required to participate in the University's Doctoral Development Programme. For those whose native language is not English, courses in English geared towards research needs are also available and strongly encouraged.
After nine months you will be required to pass a confirmation review. This involves the submission of some written documents and discussion of your work at a mini-viva, which will determine whether you have made sufficient progress on your research and have reasonable plans to complete on time.
Years two and three
After the first year it usually takes a further two years working full time on your research topic to complete a PhD. For many of our students, the second year will involve fieldwork, experiments or other data-collection activities and early analysis. There is a formal internal review at the start of the third year to assess plans for timely submission. Work during the third year usually involves detailed analysis and preparations for submission and examination.
Study options
In addition to our support for PhD by written research, we also offer supervision in PhD by Design and PhD by Practice.
The PhD by Design is assessed principally through the vehicle of an original design proposition, informed and supported by the investigation of a theoretical or an empirical position or critical interpretation. It is intended to encourage interdisciplinary working and to call on knowledge and expertise across a range of fields.
The PhD by Practice supports a practice-based investigation or a research project that is professionally driven. It is assessed principally through the vehicle of a critical design practice portfolio, contextualised, informed and supported by the investigation of a theoretical or an empirical position or critical interpretation.
The University no longer offers Joint-Location PhD supervision. Remote Location study is available subject to strict conditions and a detailed work-plan that needs to be approved by the School of Architecture and the University of Sheffield. Remote Location students would be expected to spend less than eight consecutive course weeks in the UK during their entire programme. If you are interested in studying as a Remote Location student, please get in touch with our PhD admissions tutor before making an application.