Explore our current PhD projects.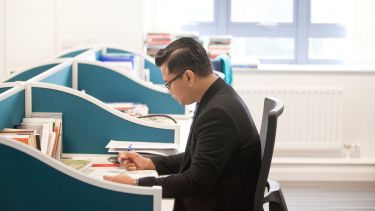 EngD in Engineering performance, sustainability metrics, and business models to drive optimisation of steel in low carbon rail transport networks
The Centre for Doctoral Training in Advanced Metallic Systems is a partnership between industry partners and the Universities of Sheffield and Manchester and the I-Form Advanced Manufacturing Centre, Dublin. CDT students undertake a doctorate with an in-depth technical and professional skills training across a structured 4-year programme. For more information on our cohort training programme and our impact from our doctoral research projects with industry please visit www.metallicscdt.co.uk.
This project is based at the University of Sheffield and is sponsored by British Steel. It is open to candidates with a strong degree in a STEM discipline. International applications may be considered for candidates with an IELTS standard of 7.0 or higher overall.
Future sustainability in the transportation sector will require a shift from personal transport toward public transport. Key in this drive will be a sustainable rail system built on a sustainable rail infrastructure.
Within the current rail infrastructure, steel accounts for around 43% of the embedded carbon but, on the positive side, steel is 100% recyclable. This project aims to scientifically investigate the role of steel within the rail infrastructure from both an engineering, and techno-economic perspective.
For years the ties between engineering functions and business functions, within both business and academia, have been very distinct. This project aims to blur the lines between these disciplines by encompassing both a real experimental engineering perspective, and a 'true to life' business application/model with respect to rail infrastructure.
From an engineering viewpoint, the project will leverage UKRRIN, the UK Rail Research Innovation Network of which University of Sheffield and British Steel are founding members. There is an extensive state-of-the-art equipment set located at both British Steel and University of Sheffield to address sustainability of steel infrastructure components through accelerated life cycle assessments and real testing. This work will be carried out both at Sheffield's Faculty of Engineering and British Steel R&D.
From a techno-economic viewpoint, the project will investigate:
•     A 'cost function' for carbon in steel railway components as a weighted combination of all the factors influencing productive life, performance, and the costs
•     Linked to the above, exploration of sensitivity to where the system boundary is defined
•     Optimisation– are there some non-obvious ways to maximise outcomes?
•     Alternative business models for infrastructure – lease or own?
This work will be carried out at The University of Sheffield's Management School, and with British Steel's Commercial and Marketing Teams. By combining these aspects with the engineering research this project has the potential to challenge the separation of engineering and commercial disciplines and produce a well-rounded graduate for which industry is craving.
For more information please contact David Fletcher (D.I.Fletcher@Sheffield.ac.uk). Professor Lenny Koh is co-supervising this project. Application close date is 15 April 2021.
Funded EPSRC DTP PhD Studentship: Combustion analysis and holistic system modelling utilising hydrogen and carbon capture - towards the application of low-carbon fuels in the glass manufacturing
This cross-disciplinary PhD project aims to provide new understanding of heat transfers of hydrogen combustion in furnace and develop a holistic system model to address integrated low-carbon energy systems embedded with hydrogen and carbon capture technologies in the glass manufacturing, providing new understandings on the environmental-economic-societal impact of the new technologies to help deliver net-zero carbon emission in the glass sector by 2050.
Decarbonisation and energy resilience will be a huge part of the UK's 'green industrial revolution' in the next 30 years to tackle global climate change. Glass, including energy-efficient glazing and wind turbines, being one of the six foundation industries, is an energy-intensive consumer, 79% of which comes from fossil fuels, and consequently contributes 2 million-tonnes of CO2 in 2019. The glass sector has the potential to play a leading role in the circular economy concept and decarbonisation to achieve net-zero carbon emission by 2050 and beyond, especially when combined with hydrogen and carbon capture technologies. However, the combustion performance of zero-carbon fuels in high-temperature melting process will be different and yet to be fully understood. The long-term feedstocks availability, decarbonising impact and costs must be assessed, requiring detailed understandings on supply chains and technical viability.
The successful candidate will be joining the team of multidisciplinary researchers of the Energy Institute at The University of Sheffield to develop research and innovation for decarbonisation. The potential objectives include theoretical combustion study, system design, environmental-economic evaluations, and supply chains study.
For more details contact Dr Ruoyang Yuan at ruoyang.yuan@sheffield.ac.uk. Professor Lenny Koh is co-supervising this project.
Find a PhD
Search for PhD opportunities at Sheffield and be part of our world-leading research.