Non-Performance Careers in Music: Panel Discussion and Q&A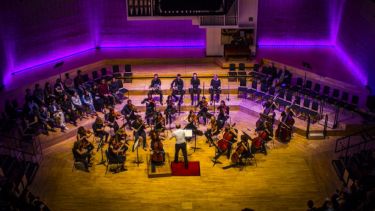 ---
Description
University of Sheffield Schools Digital Outreach Events in collaboration with the Manchester Camerata Orchestra 
Wednesday 9th June 2021, 3:45-4:45: Non-Performance Careers in Music - Expert Panel Discussion and Q&A (of interest to A-Level/BTEC Music students and teachers, and UG Music Students)

Thinking about a non-performance career in music? In this panel discussion and Q&A you'll have the chance to hear from music professionals who have made successful careers outside of music performance.  Each of our speakers will give a brief overview of their role, and take questions from the audience.

For more information about the speakers, please see below.  Please be aware that due to time constraints, it may not be possible to answer all questions, so we would be grateful if you can submit questions when you register.  We will collate similar questions to ensure we get through as many as possible.  

Don't worry if you think of a question later, you can submit this by email to e.poole@sheffield.ac.uk.

The Panel:

Tim Crooks: Conducting, arranging and orchestrating, specialising in live music Tim has been involved with many diverse orchestral projects, spanning genres from Classical to Dance, Disco, Gospel and more, working with international artists such as Kathy Sledge, Alison Limerick, Lisa Stansfield, Alex James and Aziz Ibrahim.
 
Tim has conducted across the globe, from Sydney Opera House to Dubai Opera, the Royal Albert Hall and the Pyramid Stage at Glastonbury. Current projects include orchestrating and conducting Haçienda Classical, and The Sound of Joy Division Orchestrated, featuring Peter Hook with Manchester Camerata.
 
Andrea Vogler: Outreach.

Andrea's education and outreach work includes project design, staff training and mentoring for Manchester Camerata, Live Music Now, Jessie's Fund, NCO and the RNCM. Workshop highlights include community residencies in the Shetland Islands and Flintshire, writing and recording wake-up calls for NASA's International Space Station, and directing the world's first Bucket-and-Spade Orchestra in Caernarfon.
 
Andrea is also proud to be part of Manchester Camerata's award winning Music in Mind team researching and delivering workshops for people living with dementia.
 
Sam McShane: Head of Artistic Planning, Royal Conservatoire of Scotland.
 
Liz Rowley: Deputy Director of Marketing and Student Recruitment, Royal Northern College of Music, Manchester.
She studied English and Music at Keele University before joining The Sentinel newspaper in Staffordshire as a features writer. In 2011, after six years in the newsroom, she moved to Manchester to take up the role of PR and Media Relations Officer at the RNCM, becoming Communications Manager in 2014 and Deputy Director of Marketing and Student Recruitment in 2019.
In her current role, Liz is responsible for UK admissions and recruitment communications (from the first point of contact to enrolment), internal communications, external publications, and brand management.

Related information:
https://manchestercamerata.co.uk
Events at the University
Browse upcoming public lectures, exhibitions, family events, concerts, shows and festivals across the University.