Arts and Humanities Taster Days
Taster days give Year 12 students the best experience of the University of Sheffield and what it would be like to study here.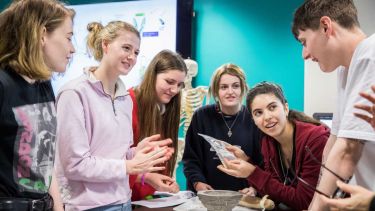 Taster Days 2021
UK universities, including the University of Sheffield, are currently responding to the global outbreak of coronavirus. Our top priority is always the wellbeing of those who make up our wider community across the globe, and that includes students looking to study at the University of Sheffield in the future.
Due to this ongoing situation we have created content for virtual taster sessions, detailed below.  
School of East Asian Studies Taster Day
When: Wednesday 17th March 2021
English Language Taster Day
When: Tuesday 30 March 2021
English Literature Taster Day
When: Wednesday 31 March 2021
History Taster Day
When: Thursday 25th March 2021
Music Taster Day
When: Monday 15 March 2021
Philosophy Taster Day
When: Wednesday 24th March 2021
School of Languages and Cultures, Spanish, Taster Day
When: Tuesday 16 March 2021
School of Languages and Cultures, French, Taster Day
When: Thursday 18 March 2021
School of Languages and Cultures, German, Taster Day
When: Tuesday 23 March 2021
School of Languages and Cultures, Russian, Taster Day
When: Friday 26 March, 2021