Arts and Humanities Taster Sessions
Taster sessions give Year 12 and Year 13 students the best experience of the University of Sheffield and what it would be like to study here.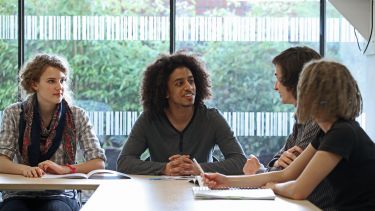 Taster Sessions 
Our online taster sessions help students experience what it is like to study at the University of Sheffield. 
See below for some of our upcoming Taster sessions:
To hear about future sessions not listed please register your interest and we'll let you know about any upcoming dates. 
Previous Sessions
English Literature Taster Session:
Othello, race and early modern England. In this talk, Dr Rutter discussed Shakespeare's Othello in relation to recent work on race in Elizabethan England, as well as the way black people are depicted in other texts of the period. 
English Language Taster Session:
Conducting an English Language Investigation. This interactive session took you through the process of conducting an English Language investigation. We considered how to find a research area, and then how to think about hypotheses and research question(s). We then explored how to find a methodology and the data that this provided.  
Music Taster Session:
Why does music matter? Many claims are made for the importance of music in education, society and everyday life. This session reviewed some of the research evidence and gave the tools to judge how convincing it is, as well as to reflect on what music meant in your own life. 
School of East Asian Studies Taster Session:
East Asian cinema & television (plus Korean language taster). We looked at the cultural manifestations and growing popularity of the 'game survival narrative' in East Asian cinema and television. Starting with the renowned Japanese film 'Battle Royale' (2000), and moving towards the present day South Korean hit 'Squid Game' (2021), we considered how we might use examples from this unique dystopian genre to better understand the social and political landscapes of contemporary East Asian societies.
Philosophy Taster Session:
Are we morally obliged to be poor? Almost everyone agrees that there are some occasions where we morally ought to help others, even if doing so comes at a high cost to us. Peter Singer argued that we have much stronger moral duties to people than we recognise, and that we ought to be giving most of our money to charity. We considered his arguments for this claim, and tried to work out if we really should make ourselves poor to help others.
History Taster Sessions:
Confucianism and China's Last Dynasty. In 1968, Chairman Mao launched the Cultural Revolution as a means to eradicate what he saw as vestiges of feudalism in China. Chief among his targets was Confucianism, an ancient philosophy that dates back to 500 BC. For Mao, Confucianism held back China's path to communism through the worship of tradition. Yet, since he came to power, President Xi Jinping has sought to rejuvenate this ethic in China. What is Confucianism? And what has been its role in Chinese society? And why does it remain attractive to Chinese leaders today? In this lecture, we explored the main tenets of this ancient philosophy, and considered how it sustained dynasties - particularly the Qing Empire, China's last imperial rulers - until the early twentieth century. 

Historicising Multiculturalism: South Asian Migration to Britain. Professor Lambert-Hurley's talk explored how and why South Asians came to Britain in the colonial period, using a range of short texts and images to introduce the topic. 
School of Languages and Cultures Taster Sessions -:
French taster session: France and Haiti: A Turbulent History. We reviewed the tragic history of Haiti and the ways in which this tragedy is closely intertwined with French imperialism and the development of global capitalism. We considered the intricate history of Haiti and France from the colonial period and the Haitian revolution up until the present day and we focused particularly on pivotal historical moments, such as the 2004 military intervention, that disclosed a shift towards a neo-imperial relationship between the two countries.
Portuguese taster session: Brazil - the land of carnival, or the land of violence? We explored how the image of Brazil was carefully cultivated by the Brazilian government in the 1930s, and how it has endured to the present day.
German taster session:  Hitler's Bathing Trunks and the AfD's Bikini: Populist Propaganda in Germany. National Socialism was not just just an evil ideology -- it was an evil ideology that had to be sold to the German people. The lecture looked at the way in which the Nazis painted a picture of Hitler as both man of the people and saviour of Germany. The populist principles underlying this marketing strategy were then explored further through a compare-and-contrast with some election posters used by today's right-wing populist Alternative für Deutschland party
Russian taster session: Welcome to Russia. This session introduced some fascinating Russian traditions, customs, beliefs and popular folklore characters. Then we  virtually participated in the most popular Russian festivals and learnt about traditional Russian cuisine. 
A world-class university – a unique student experience
Sheffield is a research university with a global reputation for excellence. We're a member of the Russell Group: one of the 24 leading UK universities for research and teaching.