Careers and employability
Students who study our MSc in Bioengineering develop knowledge and transferable skills tailored to their interests and their career aims. Having these skills makes them attractive to potential employers.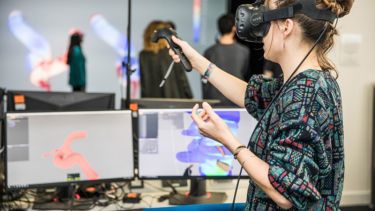 On
Using ground-breaking technological innovation and the precision of carefully-applied engineering concepts, bioengineering is a distinctive subject area in its own right that is changing lives all over the world. It can lead to fascinating and fulfilling careers in the pharmaceutical, medical devices and engineering research sectors.
Prospective employers recognise the value of our course, and that our graduates are fully equipped in being able to apply their knowledge to industry. Bioengineering graduates are in high demand with a wide choice of interesting careers to choose from.
Some of the jobs that Bioengineering MEng and MSc graduates have moved on to include:
Others have taken on roles at companies including AstraZeneca, Smith & Nephew and Unilever.
Some of our graduates go on to further study, undertaking PhDs in subjects such as computational medicine, biomaterials and tissue engineering, neuroscience and pharmaceutical engineering.
Starting salaries will vary between job roles, sectors and specific companies. The average starting salary for our MEng and MSc Bioengineering Graduates is £27,000 (Graduate Outcomes Survey 2020).
"I have always been very impressed with the bioengineering students from the University of Sheffield, the bioengineering modules prepare them for industrial life beyond university with an understanding of the medical device regulations, scientific writing experience and a solid understanding of both biomaterials, anatomy and engineering"
Jessica Kirk, (Sterility Assurance Supervisor, DePuy Synthes)
You should make the most of all the learning opportunities available to you. As well as learning from lectures, labs and tudorials, it is important for you to be aware of recent developments in your chosen specialism. We can help you identify seminars and conferences which you could attend, and you should make use of your dissertation or extended research project as a valuable opportunity to make links with industry and explore professional issues.
The academic staff in the department have many contacts in industry, so if you want to find out more about what it's like to work in the Bioengineering sector, why not ask for some first-hand advice?
The University Careers service also offers advice and support in getting started with career plans, finding a job and preparing for interviews. Their website offers a wide range of information about jobs and careers, and it is never too early to start planning.
Weekly online events
Attend an online event when it suits you, all year round, as an alternative to an open day.
Every Wednesday, Sheffield Live sessions cover different aspects of University life. You can also meet your department and learn more about studying your subject.