Details of fees, funding and scholarships available for undergraduate students.
Off
Home students
Bioengineering Academic Achievement Scholarships
If you achieve A*AA at A-level (or equivalent), make Bioengineering your firm choice for September 2023 and are a Home student, you will be eligible to receive an Academic Achievement Scholarship of £2,000.
The first instalment of £1,000 will be paid after you've arrived in Sheffield and registered on the course (from week 3 onwards) 
The second instalment of £1,000 will be paid at the end of the first year, providing you achieve passes in all your modules and a grade average of 70 or above.
Academic Achievement Scholarships are different from University Bursaries for UK students. They can be awarded on top of other bursaries or awards you may receive at the University.
These scholarships are awarded automatically.
International Students
Engineering Excellence Scholarships
We are offering a number of scholarship awards to international, undergraduate students with established and continued academic excellence.
The scholarship will be awarded to international undergraduate students who exceed the academic conditions of our standard UCAS offer. Candidates who attain A Level grades of A*AA or above (or the equivalent qualification in your country) will receive the Excellence Scholarship.
To be eligible for an  Excellence Scholarship you must:
make the University of Sheffield your first (firm) choice in the UCAS application process for 2023 entry
be an undergraduate student
be classed as an international student for tuition fee purposes
be taking all prerequisite subjects for your selected degree
We will offer the scholarship in the form of a cash bursary at the start of your course should you be eligible.  The scholarship amount is dependent on your academic achievement:  A*AA - £1000, A*A*A - £2000 and A*A*A* - £3000. Equivalent qualifications can be found here.
Once in receipt of this scholarship, you will be awarded £1,000 each subsequent academic year subject to maintaining a 70% overall average mark in the previous academic year.
              
If you join us directly in year 2, please contact our Course Support Officer to discuss your eligibility for the scholarship.
              
Candidates will not have to apply for these scholarships, as they are automatically awarded to all eligible students when they commence their studies in the Department.
If you require further information please contact our Course Support Officer: biosupport@sheffield.ac.uk
Further details:
The scholarship will be awarded automatically – no application is required in the first or any subsequent years.
Receipt of the scholarship in subsequent years of study is subject to you achieving 70% overall average mark in the previous academic year. The scholarship will be withdrawn if you fail to achieve 70% and it will not be reinstated in the following year.
You will not receive the scholarship during any optional or compulsory study abroad periods or year in industry.
Students taking the University of Sheffield International College pathway program are not eligible for the scholarship.
The scholarship can be awarded in conjunction with other University of Sheffield scholarships as long as the individual does not become fully funded for tuition fee purposes, as a result of the sum of these awards.
Disclaimer: All details were correct at time of publication and can be subject to change.
University bursaries and funding
Depending on your circumstances, you may be eligible to apply for financial support.
Undergraduate fees and funding
There are a number of funding opportunities available to international students.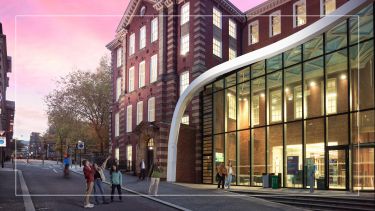 Visit us
Discover what sets Sheffield apart at our undergraduate open days on the Saturday 21 October or Saturday 18 November.