We carry out world-leading research to understand disease, improve treatments, and find potential cures. Researchers are working in areas ranging from cell biology and developmental biology to neuroscience and regenerative medicine, stem cells and cancer.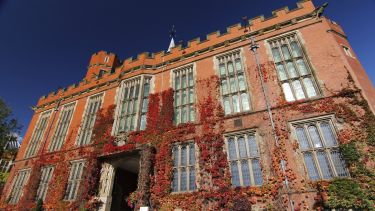 Our research
We're ranked UK number one for biomedical research and top five for biological sciences research (REF 2014)
Pioneering projects have led to breakthroughs in applying ultrasound to treat wounds, using human stem cells to treat hearing loss, and the generation of animal models for neurodegenerative diseases, schizophrenia, muscular dystrophy and cancer.
Ongoing investment in core facilities for bio-imaging including super-resolution and light sheet microscopy, RNAi screening, small molecule/in vivo cell screening, mass spectroscopy, single cell "omics" and bioinformatics, ensures that our researchers have access to all the technologies required for them to maximise their potential.
Our students
We are also training the next generation of biologists. We run a range of undergraduate degrees across the full breadth of bioscience. We also run a number of masters courses, all of which can lead straight on to a PhD through our PhD with Integrated Masters programme, and recruit new PhD students to support our research across our four focus areas of biomedical science.
The Florey Building
We're located in the Florey building and a large part of the Alfred Denny, Firth Court and Addison buildings, at the heart of the university and adjacent to the Students' Union.
Flagship institutes
The University's four flagship institutes bring together our key strengths to tackle global issues, turning interdisciplinary and translational research into real-world solutions.