Professor Bazbek Davletov
Chair in Biomedical Science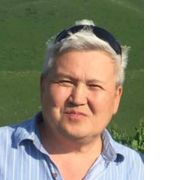 Profile

2012-present: Chair in Biomedical Science, School of Biosciences, University of Sheffield, UK.
1998-2012: Programme Leader, Medical Research Council, The MRC Laboratory of Molecular Biology, Cambridge, UK.
1995-1997: Wellcome Trust Research Fellow, Imperial College, London.
1988-1991: Research Associate, Institute of Bioorganic Chemistry, Moscow.

Rational development of drugs involves understanding molecular principles of the cellular processes one would like to target. I started my career in neurobiology by asking a basic question: What is the molecular machinery that allows neurons to communicate with each other? In the 1980s, scientists knew that neurons release neurotransmitters but the mechanisms of secretion were not known. I used the most potent neuronal secretagogue – a protein called alpha-latrotoxin, the main ingredient of the black widow spider venom – to isolate its neuronal receptors.

These receptors happened to be membrane proteins responsible for interlinking neurons: neurexins and latrophilins. I then investigated in depth synaptic proteins which either bind or are cleaved by neurotoxins: synaptotagmin, syntaxin, SNAP25 and VAMP proteins. These synaptic proteins constitute the fine-tuned release machinery responsible for secretion of neurotransmitters and are the targets of botulinum neurotoxins. My research demonstrated step-by-step protein interactions that are crucial for vesicle fusion and neurotransmitter release.

My work on synaptic proteins and neurotoxins gave rise to several translational ideas, and I engaged top experts to forge fruitful collaborations in cancer, pain and botulinum fields. With Prof. Brindle at Cambridge University, we demonstrated that synaptotagmin protein could be used to indicate success in cancer treatment. With Prof. Hunt at London University, we demonstrated that engineered botulinum molecules could provide long-lasting pain relief in animal models of pain. With Drs Sesardic and Stickings at Medicines and Healthcare products Regulatory Agency, we developed novel neurotoxin detection assays, required to replace animal use in related biomedical fields.
Qualifications

1992-1994: PhD, University of Texas Southwestern Medical Center, Dallas, USA. Supervisor: Prof Thomas Sudhof, Nobel Prize in Physiology and Medicine 2013. 11 joint publications.
1980-1985: BA, MSc in Biochemistry, Moscow State University, Russia.
Research interests

My laboratory is working on the development of new long-lasting pain relief. Around 12% of adults suffer from severe, disabling chronic pain which occurs due to over-reactive neurons. At present, the use of drugs to treat chronic pain is rarely curative and often limited by intolerable side effects. A key feature of our approach is the use of engineered botulinum neurotoxin to selectively silence specific types of neurons for prolonged periods of time. This strategy has evolved from my studies of neuronal communication which universally depends on SNARE proteins.

We demonstrated that specific cleavage of these proteins can lead to a prolonged silencing of neurons with full recovery after several months. My laboratory recently developed a wide range of botulinum molecules with selective actions. Specifically, several of our products target central and sensory neurons but not neuromuscular junctions. This feature makes engineered botulinum molecules more attractive in treating various chronic neuronal disorders since neuronal silencing can be achieved without muscle paralysis.

We investigate botulinum action on SNARE proteins in cell cultures and to that end, we developed new cell-based assays for testing botulinum and tetanus toxins. This is an important biomedical avenue since it will allow saving thousands of mice from lethal tests used by major pharmaceutical companies.
Proving the analgesic potential of novel botulinum products is conducted in collaboration with internationally recognised pain experts to bring the benefits of basic research to clinical practice. We expect that successful botulinum molecules will be helpful in treating different kinds of chronic pain not only in humans but also in animals.
Publications
Research group

Group members:

Charlotte Leese, Postdoctoral Fellow
Ciara Doran, Postdoctoral Fellow
Claire Christmas, Postdoctoral Fellow
Deniz Simsek, PhD Student
Eve Corrie, PhD Student
Tatum Askey, MSc Student

Collaborators:

Stephen Hunt (University College London)
Rashid Giniatullin (University of Kuopio, Finland)
Paul Stickings (National Institute for Biological Standards and Control, London)
Silvia Fragoeira, Merck Animal Health
Ron Broide, Allergan
Grants

Medical Research Council
NC3R
Teaching activities

Undergraduate and postgraduate taught modules

BMS109 Introduction to Biomedical Science
BMS110 Research Topics in Biomedicine
BMS242/243 Cell & Molecular Biology
BMS349 Dissertation module
BMS397 Laboratory projects
BMS401/6051 Masters course
BMS402/6052 Laboratory projects
BMS403/6053 Critical Analysis of Current Science