Professor Duncan Cameron
Professor of Plant and Soil Biology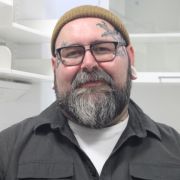 Profile

Duncan Cameron is Professor of Plant and Soil Biology in the School of Biosciences at the University of Sheffield where his research group investigates the physiology and chemistry of plant-microbe interactions in the soil in the context of sustainable agriculture and global food security. Duncan is co-director of the University of Sheffield Flagship research institute, the Institute for Sustainable Food and is the University of Sheffield's lead academic for the N8 AgriFood program. Duncan's research is highly interdisciplinary, with collaborative projects linking between science, social science and the arts. He is actively engaged in public engagement, recent projects include the multi-media sci-art collaboration, Gaiamycota, the Sound of Science, and AquaKulture. Duncan actively supports equality, diversity and inclusion at The University of Sheffield as a gay role model.

After receiving his BSc in Animal and Plant Biology from The University of Sheffield and his PhD in Plant and Soil Sciences from the University of Aberdeen, Duncan undertook post-doctoral research in Sheffield before taking up a Royal Society University Research Fellowship and has held international fellowships in Germany and Australia. Duncan has extensive experience in translational research in the UK and overseas where he has taken his basic research findings into agricultural practice. In 2013, he received the World Economic Forum's Young Scientist Award for "extraordinary scientists from across academic disciplines and geographies, under the age of 40, who commit to integrating scientific knowledge into society for the public good". Most recently, he has worked with the United Nations High Commissioner for Refugees to develop micro-agricultural systems for the production of fresh food in Jordan's refugee camps.
Research interests

Duncan is a soil microbiologist/environmental biochemist and his research focuses on resolving resource fluxes and chemical signals in plant-microbe interactions in both agricultural and natural systems. He uses a combination of methods including metabolomics, isotope tracers and molecular biology to understand the mechanisms underpinning multi species interactions as well as to understand the biological drivers of soil quality. Duncan has extensive experience in translational research in the UK and overseas where he has taken his basic research findings into agricultural practice. Most recently, he has developed micro-agricultural systems for food production in hyper arid regions of the world with collaborators Prof. Tony Ryan OBE and Jacob Nickles at the University of Sheffield. He is active in defining agricultural and environmental policy; in 2015 he addressed the United Nations at COP21 in Paris discussing his work on soil security and UN COP22 in Marrakesh in 2016.
Publications
Teaching interests

Duncan's core interests come together in his lectures for APS276 (Symbiosis) where he explores the evolution and ecology of mutualism and parasitism in plants and fungi. This module takes an innovative approach beginning with a series of lectures to provide background material followed by six guest seminars from internal and external speakers who will provide access to the cutting edge of symbiosis research including sharing their own most recent research breakthroughs.

Duncan designed and is course director for the MSc in Sustainable Agricultural Technologies launched in 2019 and lectures on soil science and analytical chemistry as well as supervising MSc research projects. The MSc is designed to equip students with the knowledge needed to understand the challenges of sustainable agriculture, and the skills to pursue an exciting career in the agri-tech sector. Students learn from the experts behind our flagship Institute for Sustainable Food which brings together expertise from across the University of Sheffield to find dynamic solutions to the challenges of food security and sustainability. The course allows students to put their knowledge into practice through external placements with our industrial, government and NGO partners.