Dr Izzy Jayasinghe
Senior Lecturer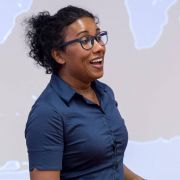 i.jayasinghe@sheffield.ac.uk
Firth Court
Full contact details
Dr Izzy Jayasinghe
School of Biosciences
Firth Court
Western Bank
Sheffield
S10 2TN

Profile

Career History

2020-present– UKRI Future Leader Fellow, School of Biosciences, University of Sheffield, UK
2015-2020 – Lecturer in Cardiovascular Sciences, Faculty of Biological Sciences, University of Leeds, UK
2013-2015 – Associate Research Fellow, College of Engineering, Mathematics and Physical Sciences, University of Exeter, UK
2011-2013 – Post-doctoral Research Fellow, School of Biomedical Sciences, University of Queensland, Australia
2010-2011 – Assistant Research Fellow, Department of Physiology, University of Auckland, New Zealand
2007-2010 – PhD, Department of Physiology, University of Auckland, New Zealand
Research interests

Cell Signalling

Bursts of intracellular calcium released from subcellular membrane compartments are a form of fast second messenger signaling mechanisms which control a range of cellular processes.

Such processes include the muscle contraction which governs the heartbeat, breathing and movement, downstream gene transcription and mobilization of secretory vesicular stores.

The temporal and spatial patterns of calcium release provide important contextual information to the target(s) of the signal. These are often provided by the organization, the regulation and interplay between the intracellular calcium release channels within these cells.

The most common types include the giant ryanodine receptors (RyRs) and the inositol triphosphate receptors (IP3Rs). As a cell biologist, I am interested in how the spatial organization and biochemical (post-translational) modification of these calcium handling proteins determine the calcium signals which can be observed within a range of cell types.

I use a combination of super-resolution imaging and live cell imaging modalities to interrogate how the cytoplasmic calcium signals may be spatially encoded in the way the sub-cellular ultrastructures are organized.

Super-resolution microscopy

A key enabler of the visualisation of sub-cellular structures such as protein clusters and organelles is super-resolution microscopy. These imaging modalities include deterministic techniques (such as STED, GSD and SIM) and the more widely used stochastic techniques (PALM, STORM, PAINT).

I am interested in both refining and inventing stochastic super-resolution techniques which enable better study of the structural correlates of cellular signaling.

I am also interested in the newer, and more unconventional super-resolution techniques such as Expansion Microscopy which allow us to physically inflate the cells and tissues in order to resolve the finer sub-structures within them.

New developments in super-resolution microscopy include innovations in the photonics (optical elements of the imaging systems), phononics (the physical properties of the lattice materials used for them), organic and redox chemistries of the fluorescent molecules which allow the localisation of these cellular structures.

One of the primary foci of my current work includes the integration of these innovations to develop cheaper, more versatile and more portable super-resolution instruments and protocols which are more accessible to the users more further afield in the Life Sciences (e.g. clinical, ecological and field scientists).
Publications

Show: Featured publications All publications

Featured publications

This person does not have any publications available.

All publications

Journal articles

Chapters

Conference proceedings papers
Professional activities

Research fellowships coordinator for MBB
Member of advisory board for Cell Reports Physical Sciences journal
Panel reviewer for Advance HE (Athena SWAN)