Studying for a masters at Sheffield allows you to specialise in your chosen scientific area in greater depth, building on the knowledge and skills you gained during your undergraduate course, ready to take on roles in academia, industry and healthcare.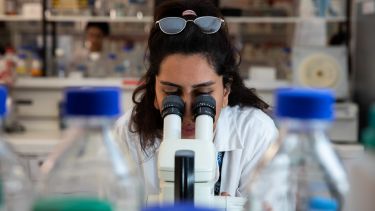 Our programme of MSc and MRes courses are research-focussed and have all been designed to train you in the latest theories and techniques that our expert bioscientists are applying in the field.
No matter which course you choose, you'll have the opportunity to devote a substantial chunk of your time to an independent research project, working under the supervision of one of our leading academics. Some of our courses can also lead straight on to a PhD through our PhD with Integrated Masters programme.
Whether you're looking to enter industry or academia, or continue your research training to PhD level, we'll show you how to use what you learn in a real-world context so that you're ready to take the next step towards your chosen career.
Our courses
Bioscience for sustainability
Bioscience for health and wellbeing
Communicating bioscience
Browse by department