My fourth year project focussed on cancer and molecular biology

Rachele Bacchetti
4th year project: cancer and molecular biology
MBiomedSci Biomedical Science
As an international student, Rachele felt at home at Sheffield and knew that the course and city would give her the opportunity to develop her intellectual skills and allow her to meet new people. Rachele is now a PhD student at the University of Sheffield, continuing the research that she started during her fourth-year integrated masters research project.
What made you decide to study the MBiomedSci Biomedical Science at Sheffield?
The University of Sheffield was my first choice for studying due to its strong academic and medical research reputation. When I finished my baccalaureate, I wanted to develop a better understanding of human disease but I was interested in a wide range of topics. The course offered was highly interesting for me as from the first year it is possible to personalise your degree by choosing some of your modules. 
The possibility to carry out anatomy dissections was another big reason of choosing this university, being one of the few UK universities that still runs full-body dissections in Biomedical Science. It was a fascinating opportunity to be able to see the human body first handed. 
The community and the campus were my final reason to study here. I visited the university during an open day and saw the facilities I would have the opportunity to study in and develop my skills. The people were also friendly, and the community is very international. I knew that in Sheffield I would have the opportunity to develop my intellectual skill but also meet new people. 
What did you enjoy most about the course?
My third-year lab-based project was highly interesting. It allowed me to put into practice the laboratory skills that I developed over the degree and helped me decide if I wanted to further continue in research. The project really allows you to have a good understanding of lab dynamics, further develop your laboratory skills, work independently, and troubleshoot problems. I also really enjoyed the enthusiasm lecturers have. Lectures are always up to date as the lecturers will mention their own research and current papers to explain different concepts, allowing you to learn about science as it is happening! 
What did you do for your integrated masters research project?
During fourth-year I carried out a lab-based project in Elena Rainero's lab, pursuing a cancer and molecular biology pathway. Sadly, due to Covid-19 pandemic I didn't have the chance to spend too much time in the lab, although the university coped really well with the situation and with the help and support of my supervisor, I was still able to learn lots of skills that encouraged me to continue in academia.  
What did you develop during your course?
During the degree I developed a deeper understanding of current scientific problems. Thanks to all the laboratory practicals and projects carried out I also developed a strong and wide range of laboratory skills. The degree also allowed me to develop a set of transferable skills, like problem-solving, time management, data analysis, and organisation. Thanks to the different events that the university has run I had the opportunity to also develop communication, presentation, and collaborative skills.
What are you doing now?
I am currently a first-year PhD student in Elena Rainero's lab continuing my integrated masters project. I am particularly interested in cancer cell migration and invasion. My research focuses on investigating the relationships among different regulators of cell motility in ovarian cancer. The project aims to elucidate the mechanism through which ovarian cancer cells increase their motility and invade, possibly establishing ADAMTS5 (a protein) as a potential therapeutic target.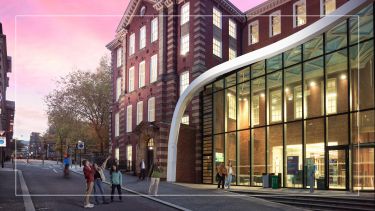 Visit us
Discover what sets Sheffield apart at our undergraduate open days on the Saturday 21 October or Saturday 18 November.