Henry's time as a Sheffield mentor not only improved his communication and time-management skills, but also gave him the opportunity to meet new students and help them as they adjusted to university life.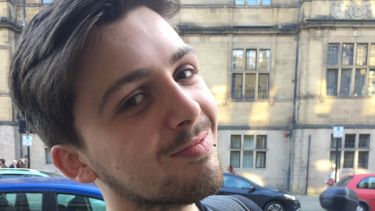 "I've always been interested in animals, so when it came to looking at universities I really liked the range of modules made available by the Department of Animal and Plant Sciences and how they apply to a range of areas in biology. I came to university as a mature student after a couple of years in work but found it easy to integrate myself into the department and the university as a whole.
"I really wanted to make a difference from early on, so when applications for the department's student-staff committee opened I applied and was successful. Being part of the committee has been a really good experience, as it's allowed me to be able to make real improvements to modules and the department as a whole, to voice mine and my peers' opinions and get things changed for the better. It was from this experience that I decided to join the faculty student-staff committee in my second year, which has provided even more opportunity to make a real impact for the benefit of my fellow students, as well as meeting similar-minded people from across the different science departments.
---
Sheffield is a great place to live and study, and has given me opportunities to develop my interests and personal skills in the areas of biology that I'm interested in and want to pursue further, particularly insect biology and palaeobiology.

Henry Ellison

BSc Biology
---
"During my second year, I also had the opportunity to become a Sheffield mentor. This has been a very rewarding thing to do, as it not only taught me transferable skills such as communication and time-management but also allowed me to meet new students and help them with any issues they might have when getting here and adjusting with university life. I am looking forward to continuing as a mentor during the rest of my degree and helping new students as they start their time here.
"Overall, I'm really glad I chose Sheffield and the Department of Animal and Plant Sciences. I am hoping to move from the BSc to the MBiolSci next year, and I'm excited to work with some of the staff in the department and learn from them, as I feel it will really benefit me in my future career. Sheffield is a great place to live and study, and has given me opportunities to develop my interests and personal skills in the areas of biology that I'm interested in and want to pursue further, particularly insect biology and palaeobiology."