During her second year, Holly did a placement with Kirkstall, a Rotherham-based biotechnology company. This placement gave her insight into science outside of academia and helped secure her industry-funded studentship for her PhD at the University of Cambridge.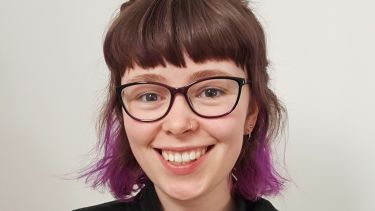 "I'm currently in my final year of studying for my BSc in Biomedical Science at the University of Sheffield. After becoming thoroughly enthralled by biomedical research, I decided I wanted to pursue a PhD and was recently offered a PhD studentship in Pharmacology at the University of Cambridge.
"My PhD project, which is in collaboration with an industry partner, will be looking at mechanisms of calcium signalling inside cells using high-resolution microscopy. My interest in calcium signalling as a fundamental cellular process was sparked by my final year laboratory project, where I was using fluorescence live-cell imaging to look at how cancer cells show different patterns of intracellular calcium release in response to extracellular stimulation.
---
Personally, I think the best part about studying biomedical science is finding something that makes you go "Oh, that's cool!" – which is easy when you start to become immersed in the exciting, cutting-edge research being carried out here at Sheffield.

Holly Smith

BSc Biomedical Science
---
"Biomedical science at Sheffield covers a really diverse range of modules, but I particularly enjoyed the pharmacology aspects of the course, where we learn about the precise pathways in which drugs act to moderate cell behaviour and ultimately treat diseases. All the lecture content we cover – along with practical lab sessions, human dissection, and group projects – marries together nicely to give students a comprehensive understanding of human biology and disease. Although I want to stick with the science side of things for now, emphasis is always placed on transferable skills, so graduates who want to branch out into different careers are well prepared to do so.
"In the summer following my second year, I undertook an industrial placement with Kirkstall, a Rotherham-based biotechnology company, where I was a research and development intern. Here, I was able to gain a valuable insight into science outside of academia, which helped me secure my industry-funded studentship at Cambridge. I found my placement through the university's career service, which is great for advice on CVs and interview preparation.
"Personally, I think the best part about studying biomedical science is finding something that makes you go "Oh, that's cool!" – which is easy when you start to become immersed in the exciting, cutting-edge research being carried out here at Sheffield. We are in the extremely privileged position of being taught, tutored and supervised by leading scientists in the field, whose expertise and support is an invaluable resource for anyone wanting to pursue a career in science. Not only have I found studying biomedical science at Sheffield really inspiring, but I feel like I now have a solid grounding for the next steps in my life as I embark on my PhD at Cambridge!"