Frequently asked questions
Find answers to your questions about eating and drinking on campus.
We have many sustainable and ethical initiatives that benefit people and the environment both locally and globally.
Our milk is locally sourced from Our Cow Molly, reducing carbon emissions and strengthening local business.
Our coffee is 100 per cent direct trade from Colombia, cutting out the middleman and allowing the farmer to get their hard earned profits.
This is then roasted at Roastology in Sheffield. We are currently tackling the issue of disposable coffee cups through various means; we offer a discount to customers who use their own cup and support the Campus Cups scheme.
All of our outlets have recycling bins available and we've removed single use plastic cutlery, plates, cups and straws from our cafes.
---
We offer vegetarian and vegan options at all of our outlets. We have The View Deli, located in the Students' Union, that sells only vegetarian and vegan food. No meat at all. Gluten-free options are also available across all of our outlets.
---
Information about allergens can be found in each individual outlet, the staff are more than happy to help with any questions you might have.
---
We offer a £3.50 meal deal across most of our outlets. You can get a sandwich or wrap marked A to D, any regular hot drink, can of pop or bottle of water and then a choice of snack from a cookie, packet of crisps or piece of fruit.
---
Each year we aim to generate a small surplus to ensure that we continue to operate sustainably and to protect the jobs of our employees. However, we keep our margins low in order to keep our products as affordable as possible for students and staff at the University.
All of our surpluses are re-invested back into the University and improving our services and facilities.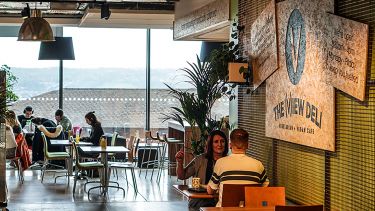 Find our venues
Use our interactive map to find any of our food and drink venues across campus.
A world-class university – a unique student experience
Sheffield is a research university with a global reputation for excellence. We're a member of the Russell Group: one of the 24 leading UK universities for research and teaching.