Brand new this year, The Hut serves takeaway street food right at the heart of Endcliffe. You can't miss the bright and vibrant hut, designed by local Sheffield artist Marcus Method, sat on the Edge Piazza just outside The Edge.
Choose from a range of freshly made pizzas, cooked in our very own traditional woodfired pizza oven, grab a crispy fried buttermilk chicken strips meal or get stuck into some loaded fries – deee-lish!
Open from 8am serving hot breakfast sandwiches to get your day off to a good start.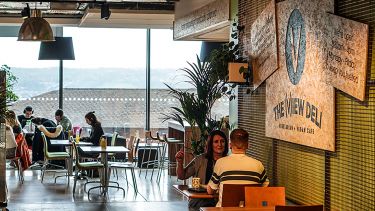 Find our venues
Use our interactive map to find any of our food and drink venues across campus.
A world-class university – a unique student experience
Sheffield is a research university with a global reputation for excellence. We're a member of the Russell Group: one of the 24 leading UK universities for research and teaching.