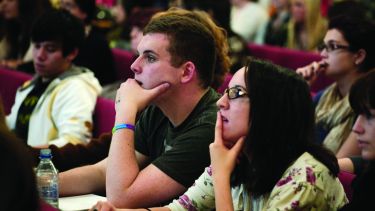 We host an exciting and engaging research seminar programme throughout the year.  Research seminars provide the opportunity to hear about cutting edge research from across a wide range of topics and our seminars are open to all.
---
Professor Raffaella Ocone (Heriot Watt University) 
The Rheology of Granular Materials: A Multiscale Approach
20 Janaury 2021 11.30pm - 12.30pm 
Biography  

OBE FRSE FREng is Professor of Chemical Engineering at Heriot-Watt University and a Fellow of the Royal Academy of Engineering. In 2006 she was awarded the title Cavaliere of the Order of Merit of the Italian Republic and in the 2019 New Year Honours she was appointed OBE. Further information.  

Abstract 

Granular materials exhibit a broad range of intricate dynamic behaviours. In the chemical and process industries, where those materials are widely handled and produced, studying their hydrodynamics is of critical importance. Indeed, understanding how internal (e.g., particles size and shape) and external (e.g., applied stresses, moisture content) physical properties impact on the flow behaviour of solid particles helps industrial practitioners handle and produce particulates in an efficient and less costly way. 

The talk will explore the challenges that the dynamic behaviour of dry and wet granular materials poses and discusses the most recent experimental and modelling studies undertaken at Heriot-Watt University. Those studies aim at elucidating the rheological behaviour of aerated granular materials by employing a commercial instrument, the Freeman FT4 Powder Rheometer, which is modified to generate Couette flow. We call the modified instrument the "Aerated Bed Virtual Couette Rheometer" (AB-VCR) and its development is presented. The AB-VCR is employed in both non-aerated and aerated modes to determine the rheology of monodispersed spherical glass beads with and without moisture. Systematic measurements of the stresses which develop within the granular medium are presented and a rheological law is proposed. The validity of such a constitutive law is tested and discussed.
---
Professor Mike Bradley (University of Greenwich)
Powder Behaviour Critical Points in High Value Manufacturing – The Good, the Bad and the Questionable?
12 February 2021 12.00pm - 1.00pm 
Biography

Mike Bradley is Professor in Particle and Bulk Technology, Director of the Wolfson Centre for Bulk Solids Handling Technology and Head of the Greenwich Manufacturing Group at the University of Greenwich. He was awarded both his honours degree and PHD from Thames Polytechnic (now the University of Greenwich) and, as manager/director, provides technical leadership in all aspects of bulk solids handling. His particular areas of interest lie in pneumatic conveying, design of hoppers and silos, dust control, plant integration and maintenance of product quality. He is Chair of Solids Handling and Processing Association (SHAPA), and a member of Materials Handling Engineers Association (MHEA) and of the Institution of Mechanical Engineers Bulk Materials Handling Committee (IMechE).  He was awarded a professorship in 2006 and the directorship in 2008.

Abstract

Powders lie at the heart of many Additive and other High Value Manufacturing processes, and the behaviour of these powders is critical to quality, productivity and feasibility of manufacturing.  Much research has been done into the behaviour of powders historically, and yet the communities in AM and HVM appear to be working as if in a vacuum, trying to re-invent the wheel, aided and abetted by equipment manufacturers who have a vested interest in putting out new, patented "solutions" to problems, many of which are based on guesswork and questionable science.  Notwithstanding the lack of application of existing knowledge, there are many areas of powder behaviour which have not been sufficiently well researched, yet are known to create traps for the unwary – or even the cautious.  This presentation will aim to give a short tour of the key powder behaviour issues that impinge on HVM operations, the opportunities for HVM to better exploit known powder science, and the burning questions that we need research to address.
---
Dr Rupert Myers (Imperial College London) 
Date TBC
.
Biography

Rupert J. Myers is a Lecturer in Sustainable Materials Engineering and leader of the Myers Group at Imperial College London.

He has worked across various engineering/science disciplines and locations, from Australia (Uni. of Melbourne), to the United States (UC Berkeley, Yale, MIT), and to Europe (EMPA, Uni. of Edinburgh, ICL).

Rupert currently champions his mission, to reduce environmental burdens through sustainable engineering, by focussing his research and teaching on materials that are virtually unmatched in importance to society, such as cement and metals, and the services/products that they provide, e.g., shelter/buildings, infrastructure, and cities.

He leads inter(/trans)disciplinary projects in this space, which notably couple industrial ecology and materials engineering/chemistry, in collaboration with various domestic and international academic and non-academic partners.

Rupert is a member of the International Society of Industrial Ecology.

Abstract

Date TBC
---
Professor Paul Topham (Aston University) 
Nanolithography using microphase separation of high chi, low N polymers- how low can
we go?
Date TBC
Biography

Professor Paul Topham is a Full Professor of Polymer Science, Head of Chemical Engineering and Applied Chemistry (CEAC) and Director of the Aston Institute of Materials Research (AIMR) at Aston University and a Visiting Professor of the South China University of Technology. He did a PhD with Tony Ryan at the University of Sheffield (2002 – 2006) and then a postdoc with Steve Armes from 2006 – 2008, before taking up a lectureship at Aston. In 2019, he was awarded the prestigious position of representing Hydrogen in the Periodic Table of Younger Chemists for the celebration of IUPAC100 and IYPT (https://iupac.org/100/pt-of-chemist/), and was also awarded the MacroGroup UK Young Researchers Medal in 2014.

Abstract

The remarkable properties and tunability of block copolymers (BCPs) offer themselves to a wide
range of applications, such as nanoporous membranes for drug delivery, nanolithography and
microelectronics. These latter industries have driven the need for smaller feature sizes by feasible
synthesis, rendering BCPs a plausible candidate. Here, we will discuss a novel approach to
microphase separation of polymers to push the lower limit of domain size resolution through the use of short poly(acrylic acid) homopolymers equipped with a short fluorinated tail, posing as an
antagonist 'block'. Exploiting the high driving force for demixing and the well-defined 'block' sizes,
we are able to control the nanostructure in terms of domain size (down to 3.4 nm full-pitch) and
morphology. This work demonstrates the simple and highly controlled synthesis of polymers to push the boundaries of the smallest achievable domain sizes obtained from polymer self-assembly. The question that remains to be answers is: how low in terms of domain size (i.e. how high in resolution) can we go with this technology?
---
Professor Pete Halley  University of Queensland, Australia
Sustainable biopolymers for a circular plastics economy: translational research from bench to start-up company
Date TBC
Biography

Peter Halley is a professor in chemical engineering at the University of Queensland (UQ). From 2014 to 2019 he was also the head of school of UQ chemical engineering. Peter works in polymer engineering and processing research at the translational research interface between university and industry. Specifically his research involves rheology, processing and product design of bio-based materials, polymers and nanocomposite materials for agrifood, biomedical and high-value manufacturing sectors. He has worked in industry (SRI international, Sola Optical, Moldflow), has worked in three cooperative research centres (CRCs in polymers, food packaging, sugar innovation), has acquired and managed continuous government and industry research projects since 1994, and was heavily involved in the spinoff of Plantic Technologies (starch polymers). He has affiliate positions in the Australian institute for bioengineering and nanotechnology (AIBN) and the Queensland advanced materials processing and manufacturing (AMPAM) centre at UQ. Peter is a fellow of IChemE and RACI, and is on several editorial boards of polymer journals.

Abstract 

This talk will highlight the need for developing a sustainable plastics economy to reduce waste but maintain the benefits to society of plastic materials and products. I will focus on the development of biopolymers (based on starch, PHA, lignin, and other materials) in our labs which extend over a 25 year journey from fundamental research through to scale-up and start-up company development. I will highlight the development of starch materials from niche applications to high value applications. The importance of linked PhD projects with applied research projects will be shown.
---
Contact 
For more information or to be part of our seminar series please contact:
Events at the University
Browse upcoming public lectures, exhibitions, family events, concerts, shows and festivals across the University.